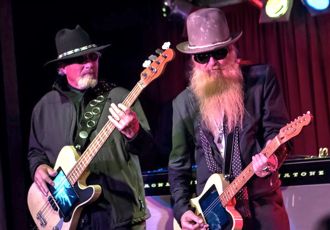 Moving Sidewalks, the psychedelic rock band that counted among its members ZZ Top star Billy Gibbons, has reunited for a March show in New York.
The Texas quartet, which broke up in 1969 when two members were drafted, will play with its original lineup: singer-guitarist Gibbons, drummer Dan Mitchell, bassist Don Summers and keyboardist Tom Moore.
The March 30 show at the B.B. King Blues Club & Grill is billed as "The Moving Sidewalks featuring Billy Gibbons of ZZ Top."
Update: Photos of the show by Arnie Goodman. Billy Gibbons with (top) bassist Don Summers and organ player Tom Moore. Read a review of the Moving Sidewalks show. /update
"The Moving Sidewalks sound really holds up," Gibbons said of the popular regional act's mix of garage rock, blues and psychedelia. "We've remained in touch as cohorts that made up this nice little quartet and in terms of playing style, we don't have to change anything. What was good then is good now."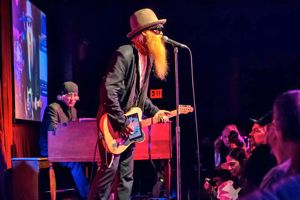 While Moving Sidewalks found little success outside the Houston market, their recordings became collector's items and subsequently were reissued over the years, including tracks that appeared on the "Pebbles" compilation and on a ZZ Top box set.
The New York show is in part a promotion for Rockbeat Records' release of "The Complete Moving Sidewalks," a double-disc CD released in October.
The Moving Sidewalks toured with Jimi Hendrix, an early booster of Gibbons' blistering guitar skills. They also opened for Houston shows by the Doors, the Jeff Beck Group and Johnny Winter.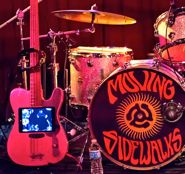 The band was heavily influenced by the psychedelic sounds of Austin's 13th Floor Elevators, with whom they also performed.
Moving Sidewalks released one album, "Flash," which was preceded by the garage rock single "99th Floor," a regional hit in 1967. Among its best-known songs was a psychedelic wash of the Beatles' "I Want to Hold Your Hand."
The New York show is part of the ongoing Cavestomp! series of garage band concerts, which have included a reunion of the Sonics.
Gibbons started ZZ Top in 1969. The hugely successful blues rock band, which tours frequently, has only one upcoming show booked, according to Pollstar.