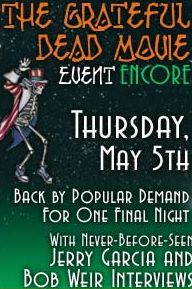 "The Grateful Dead Movie" gets a second revival on Thursday, May 5, following up on its successful "one night only" screenings of April 20.
Now it's "one final night," with screenings at 7:30 p.m. local time on the 5th. The distributor/promoters are Fathom and Rhino Entertainment. The Dead movie is being redistributed to cinemas via Fathom Entertainment's digital cinema network.
Of the 540 screens used in April, 108 are back in action.
Other than the April 20 screening, "The Grateful Dead Movie" has not seen in mainstream cinemas since 1977.
The film offers a mix of performance, documentary footage and animation. It was filmed at Winterland Arena in 1974, during what was to be the Dead's farewell appearances. The two screenings in 2010 advertised "exclusive" interviews with Jerry Garcia as well.
More Grateful Dead content from Psychedelic Sight: