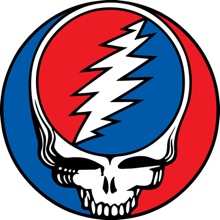 Who knew, but it looks like November is Grateful Dead month.
The band's web site, dead.net, serves up a fresh track every day this month. They're mostly unreleased soundboard recordings, the Dead folk say. Tune in and download the 320Kbps songs while you can — once the day's up, the track is gone.
So far we've scored live performances of "New Speedway Boogie" (Fillmore East, 1970), "Dark Star" (Fillmore West, 1969) and a spaced-out "Playing in the Band" (Des Moines, 1973).
Archivist/Dead insider Dave Lemieux selected the songs, which aren't announced in advance. The giveaway seeks to reward the "tapers who documented the Dead's concerts and trade them freely with other Dead Heads."
To download the songs, you'll need to be a member of dead.net — free and easy sign-up. (The site itself is awkward/buggy, so be patient whilst finding your way to the downloads.)
Once you're there, a trivia contest could lead to a major score: a freebie "Road Trips" collection or the new Dead box set from Rhino, "Formerly the Warlocks
," recorded live in 1989 at two "stealth" concerts in Hampton, Virginia.
"Warlocks" comes in a cigar box (tobacco, Virginia, get it?) with all kinds of goodies. The music has been mastered to HDCD specs, with Mike McGinn doing the mixing.