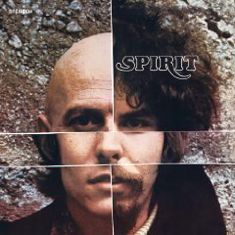 Psychedelic rock never was long on drama. There were exceptions, of course — notably Jim Morrison and the Doors — but most bands of the acid rock era were content to noodle, protest and freak out.
In January 1968, the debuting L.A. band Spirit unleashed "Mechanical World," a long, dark and strange single. Every second of the psychedelic track was played for maximum drama.
Jay Ferguson's vocals sounded wrenched from the grave. He begins: "Death falls so heavy on my soul … "
Ed Cassidy's funereal drums came right out of a Hammer Films horror-show. The strings of arranger Marty Paich did a dans macabre with Randy California's guitar.
Needless to say, Top 40 radio didn't know what to make of this psychedelic masterpiece. (The single's playing time was given only as "very long"). "Mechanical World" never cracked the charts, Billboard reports, but it did help sell Spirit's excellent debut album in adventurous radio markets. (WQAM in South Florida was a big supporter.)
What gave "Mechanical World" its nightmarish quality? One clue: Its co-writer, bassist Mark Andes, reportedly worked on the song while disoriented by the flu.
Jay Ferguson's lyrics suggested much, but revealed little:
Death falls so heavy on my soul
Death falls so heavy, makes me moan
Somebody tell my father that I died
Somebody tell my mother that I cried.
The song is basically those four lines, but there's an intriguing coda.
Once in my younger days
Once in my younger days I had a girl to love.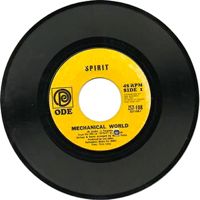 Were these the dying words of a soldier? Could be. The Vietnam War was in full swing when Spirit's debut album was recorded, with the Tet Offensive raging just as "Mechanical World" hit the airwaves.
A dystopian fever dream? Spirit would later "cover" George Orwell's novel "1984."
Or, as the fateful drums suggest, we're hearing the last words of a man about to be executed. (The Doors recorded the similar "The Unknown Soldier" a month or two after "Mechanical World" hit the L.A. airwaves.)
Take your pick. "In Spirit, my lyrics were largely fantasized," Ferguson has said.
The album was produced by Lou Adler, who'd created a cinematic vibe for "California Dreaming" by the Mamas and Papas.
Musically, "Mechanical World" depends on a heavy-light call and response between guitar/organ and itchy-scratchy hi-hat cymbals. In some ways, it anticipates Led Zeppelin's "Kashmir" of 1975.
Guitarist California delivers two jaw-dropping solos, the first among his best. At one point his sustain-drenched guitar soars to sonic-boom territory before crashing back to Earth. His former running mate, Jimi Hendrix, had to be impressed.
"Mechanical World" ends as if a soundtrack to a film, with the elegiac strings ushering out the listener — until a final intrusion of guitar and drums slams shuts the door. No happy endings in this world.
(View Spirit concert set lists.)