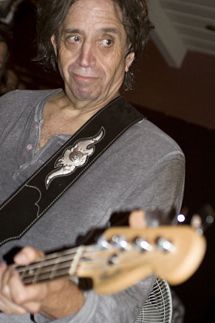 Mark Tulin, a founding member of the hitmaking psychedelic band the Electric Prunes, has died. He was 62.
The bass player and songwriter suffered a heart attack Feb. 26 while diving off Catalina Island, friends said. He was participating in an annual clean-up event in Avalon.
While remaining active with the Electric Prunes, Tulin played in recent years with Smashing Pumpkins frontman Bill Corgan. He toured with Corgan's side project Spirits in the Sly (a tribute to Sky Saxon) and played on some of the music for the Pumpkins' evolving "Teargarden by Kaleidyscope" album.
With the "classic lineup" of the Electric Prunes, Tulin recorded the 1966 hit "I Had Too Much to Dream (Last Night)" and appeared on all of that band's albums. He wrote much of the Prunes' material with singer James Lowe. The band reunited at the turn of the century and continued to tour and record.
The Electric Prunes were recording for a label headed by Smashing Pumpkins producer Kerry Brown, along with the Strawberry Alarm Clock.
As a studio musician, Tulin worked with Cher, Diana Ross, Kenny Loggins, Neil Diamond, and Stevie Nicks and Lindsey Buckingham.
Tulin and the Electric Prunes recorded "Pushin' Too Hard" for a Saxon tribute album.