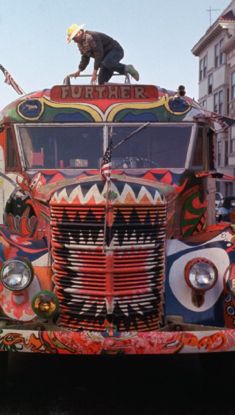 The Merry Pranksters ride again, in the acid-drenched documentary feature "Magic Trip: Ken Kesey's Search for a Kool Place."
The Pranksters, of course, were the pack of bohemian youth who gathered around the hipster novelist Kesey. With beat generation icon Neal Cassady behind the wheel of an old school bus, they traveled across the country, in search of the New York World's Fair and … Whatever.
The bus, carrying the destination sign of "Furthur," was painted wildly, in tune with the soon-to-come psychedelic aesthetic. One Prankster called it a "traveling pleasure palace."
Many historians point to this happening as the big bang that unleashed the psychedelic era. Kesey ("One Flew Over the Cuckoo's Nest") had taken part in government-sponsored LSD experiments five years earlier and was eager to spread the sparkly swirling vibes.
"We were too old to be beatniks and a little too young to be hippies," one Prankster recalled.
And so, a half-century later, documentary filmmakers Alex Gibney ("Taxi to the Dark Side") and Alison Ellwood found themselves with 40 hours of amateur home movies shot on the trip.
The resulting two-hour movie from Magnolia Pictures began its theatrical roll-out Aug. 5 in San Francisco (naturally) and New York. "Magic Trip" downloads also are available (iTunes link).
Reviews were mixed: The San Francisco Examiner reviewer found that while " 'Magic Trip' failed "to adequately explore the significance of the journey involved, the film is a worthy document of the 1964 event and a loopily enjoyable visit to the inception of hippiedom."
The New York Times' Stephen Holden wrote that "the unbridgeable distance between the stoned and the sober is the problem with Alex Gibney and Alison Ellwood's documentary." As in, taking acid is a lot involving than watching some shave-tail kid freak out.
The footage couldn't be synched up with what remained of the recorded sound, so most of the movie's audio focuses on the participants' memories. Audio interviews with various Pranksters were made in the 1970s. "None of the storytellers could be described as transfixing yarn spinners," Holden wrote. "Any philosophical afterthoughts are resoundingly banal."
The Hollywood Reporter, however, found the older Pranksters' tales fascinating: "They provide a vivid portrait of the journey previously profiled in Tom Wolfe's book 'The Electric Kool-Aid Acid Test,' " reviewer Frank Scheck wrote.
He continued: "Much of the footage on display consists of the Pranksters behaving in generally silly, stoned, sloppy fashion, with the result that the proceedings come to resemble a rambling home movie that was clearly more fun to make than it is to watch."
The band that would become the Grateful Dead, the Warlocks, make an appearance and, of course, "Truckin'" keys the soundtrack. The main Dead offshoot band is now called Furthur.
You can see for yourself via Magnolia's on-demand (paid) distribution network, which includes iTunes, Amazon, Vudu, the DirecTV and Dish satellite systems and a swarm of cable providers.