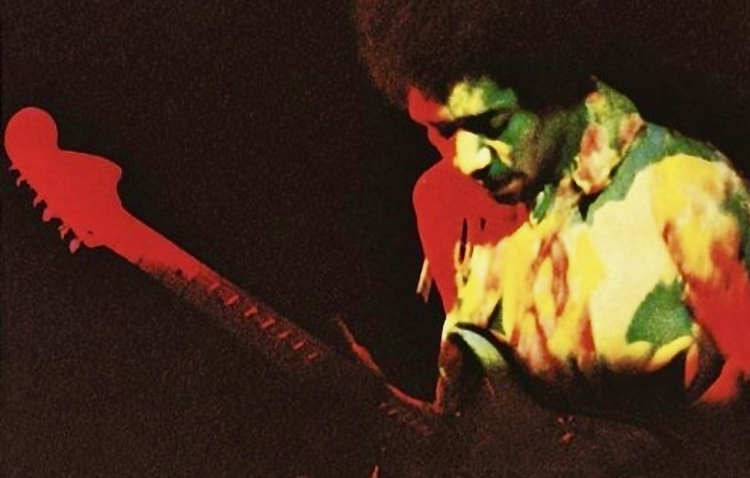 New Year's Day, 1970. Jimi Hendrix plays the Fillmore East with his new group, Band of Gypsys.
Mostly silent up to then on the subject of the Vietnam War — preferring to write about aliens, mermaids and the ladies — the former soldier finally dives into the fray:
Hendrix dedicates a new song to "all the soldiers that are fighting in Chicago and Milwaukee and New York. … Oh yes, and all the soldiers fighting in Vietnam."
And so is unleashed "Machine Gun," 12 minutes and 15 seconds of sonic fury and pain. There are to be found more eloquent denunciations of war in protest rock, but none more emotional. The song's gravitas is inherent in its mass — Hendrix's Bible black wall of sound — and in its subject matter:
Evil man make you kill me/Evil man made me kill you/
Even through we're only families apart.
Much of the "Band of Gypsys" album is given to funk, with Hendrix egged on by his pal Buddy Miles, the singer-drummer. "Machine Gun," however, returns the guitarist to the jaw-dropping soundscapes he created on the psychedelic albums "Are You Experienced" and "Axis: Bold as Love."
Away from his beloved recording studios — and his trusted engineer — Hendrix had to rely on feedback and the new breed of effects boxes to conjure up "Machine Gun."
One of the chief effects was the eerie Octavia pedal (aka Octavio), heard on early recordings such as "Purple Haze" and "Fire." One of its main tricks is to take a guitar signal and create a mirror sound that's one octave higher. (Hendrix participated in the evolution of this effects box, which debuted in 1967. The few boxes made were doled out to the rock elite.)
The UniVibe phase shifter — which more or less mimics the sound of a guitar wrenched through a Hammond organ's rotating speaker — added another otherworldly texture. Hendrix, of course, was a master of the wah pedal and the fuzztone box, and these too were in his arsenal on this night.
In the hands of mere mortals, an effects chain such as this would produce a pileup, but this was Hendrix. The master's guitar carries out strategic strikes; it resorts to carpet bombing; it cries in agony. All the while, drummer Miles imitates the deadly insistence of an automatic weapon.
(text continues)
* * * * *

At 9:40 Hendrix and Miles begin exchanging gunfire, snare and scratchy guitar:
"Don't you shoot him down," Hendrix cries. "Don't you shoot him down." Then, "He's been shot down to the ground." Chilling, if you let it be. The gunfire finally ends, and Hendrix plays a eulogy for the war dead.
Hendrix wisely retained "Machine Gun" in his live repertoire. There was a rough studio version. He would fiddle extensively with the lyrics. But this Fillmore East performance remains definitive, as good an example of lightning in a bottle as there is in rock. Many Hendrix fans consider it his artistic pinnacle.
Hendrix would be dead in a little more than nine months, "Machine Gun" as stirring a final testament as any artist ever left behind.
Hendrix debuted "Machine Gun" several months earlier on "The Dick Cavett Show." Before that, at Woodstock, he suggested its basics in an intro to "Hear My Train A Comin'," a 3-year-old song with similar bones. (Hendrix also performed "Train" at the Fillmore East gigs.)
The Band of Gypsys — which included Hendrix's Army running mate Billy Cox on bass — proved short-lived, with commercial pressures soon bringing a fitful reunion of the Jimi Hendrix Experience.
With the Band of Gypsys, Hendrix reached out to the black audience that had shrugged off his psychedelic adventures. Even Hendrix couldn't fake the funk, it turned out. But one young black musician was all ears. A year later, Eddie Hazel of Funkadelic channeled "Machine Gun" with another dark and lengthy masterpiece of the electric guitar, "Maggot Brain."