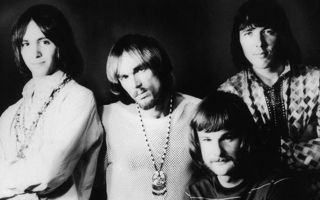 Iron Butterfly bassist Lee Dorman, who provided the bottom for the psychedelic smash "In-a-Gadda-Da-Vida," has died at age 70.
Dorman, who had a history of heart problems, performed off and on with the reunited Iron Butterfly over the past three decades, most recently in 2012.
The bassist joined the San Diego band as it was being rebuilt in the wake of their 1968 debut album. He played on the album "In-a-Gadda-Da-Vida" as well as the rest of the psychedelic band's LPs of the era.
In 2011, Rhino released an ambitious double-CD set that captured Iron Butterfly live at Fillmore East in 1968, shortly after Dorman joined. This classic line-up of the band (from left in above photo) was guitarist Erik Brann, drummer Ron Bushy, Dorman and the group leader, singer-keyboardist Doug Ingle.
"In-a-Gadda-Da-Vida" was a sensation in 1968, despite its 17-minute running length. A single version found success on top 40 radio as well. The song remains one the best known artifacts of the psychedelic music era, still praised and ridiculed, as it was back in the day.
Dorman received songwriting credit on eight of the nine songs on the successful follow-up album, "Ball." His thick clocklike bass work was prominent on the album's single "Soul Experience" (video below).
After the 1971 demise of Iron Butterfly, Dorman formed Captain Beyond ("Sufficiently Breathless") with singer Rod Evans from Deep Purple and another Iron Butterfly guitarist, Larry "Rhino" Reinhardt.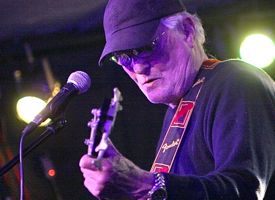 In 2010, Dorman joined Ingle and Bushy in suing Warner Music Group over profits from their recordings (Dorman v. Atlantic Recording Corp.)
Dorman did not play with the mid-'70s revival of Iron Butterfly. He reunited with the classic line-up at the 1988 Atlantic Records 40th anniversary concert that also featured Led Zeppelin and Vanilla Fudge.
Dorman played off-and-on with several versions of Iron Butterfly over the past three decades, but the health problems limited his musical career.
He was born in St. Louis, Mo., and moved to San Diego in the 1960s. Orange County, Calif., deputies said Dorman was found dead in his vehicle Dec. 21. The coroner cited natural causes.
"Iron Butterfly Theme" is No. 30 on the Psychedelic Sight song chart.
(Color image of Dorman in 2012 by Eva Makovska)
More psychedelic music obituaries from December 2012: