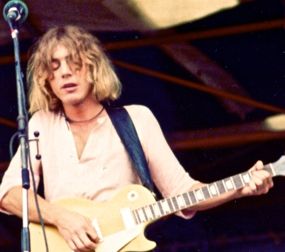 Kevin Ayers, a founder of Soft Machine and a key but elusive figure in the UK underground scene, has died at age 68.
Ayers, a singer and bass player, recorded his last album, "The Unfairground," in 2006. He recorded 17 albums after leaving Soft Machine in 1968, but remained closely identified with the Canterbury scene band.
In 2012, the five-CD box set "The Harvest Years: 1969-1974" celebrated Ayers' career. It compiled his first five albums as a solo artist, as well as various bonus tracks.
In 2008, "Songs for Insane Times: 1969-1980" sampled 11 albums he made for Harvest.
Shindig! magazine profiled Ayers at the time, calling him the "poster boy for the late '60s underground scene."
Ayers started the experimental Soft Machine in 1966, with college-town pals Robert Wyatt and Mike Ratledge. "A lot of people hated it at the time," Ayers recalled. "But it was the beginning of a movement which came to include Pink Floyd and the whole underground."
Soft Machine's first psychedelic art-rock album came out in 1968, the tracks recorded in New York while the band had a supporting spot on a Jimi Hendrix Experience tour. Hendrix guru Chas Chandler co-produced the Soft Machine album, the only one with Ayers.
Ayers quickly burned out during the Hendrix tour and left the group. It would be one of many career moves apparently designed to avoid the strains and inconveniences of rock stardom.
Soft Machine went on to become a seminal progressive jazz-rock band, a significant departure from the eccentric psychedelic rock made during the Ayers years. "I'm not a jazz musician, and the way they were going didn't interest me — but it was amicable parting," he told Uncut magazine.
Ayers would look back on the college-scene intellectuals of Soft Machine as "his first real family." Some of its members would appear on Ayers' works through the years, notably Robert Wyatt and bassist Hugh Hopper.
Ayers' debut solo album, "Joy of a Toy" (1969), featured a fly-by from a fading Syd Barrett, the Pink Floyd founder with whom Ayers is often compared, at least in the whimsy department. Soft Machine often played with Pink Floyd at Joe Boyd's famed UFO Club in London.
Other musical collaborators over the years included Mike Oldfield, Brian Eno, David Bedford, the guitarist Ollie Halsall and John Cale.
The second Ayers album, "Whatevershebringswesing," was keyed by "There Is Loving/Among Us," a soulful 8-minute track considered one of his finest works.
Ayers was notorious as a man of considerable appetites, with lifestyle often trumping career — even though he is survived by a deep catalog of Ayers albums. He told Shingdig! he saw music as a way to avoid having a "normal job." He fell into heroin addiction in the 1980s and retreated to the south of France, where he kept a home until he died Feb. 18, 2013.
The rock critic David Fricke eulogized Ayers as "an exotic, carefree genius of (Britain's) psychedelic and progressive rock. … (He) made a pop music soaked in acid, Beaujolais and Ibiza sunshine, charged with an explorer's restlessness that ensured he never made the same album twice."