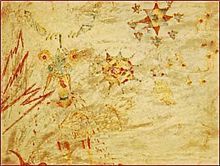 The real-life Lucy of "Lucy in the Skies With Diamonds" is inspiring Julian Lennon once again. On Dec. 15, he's releasing the single "Lucy" in her memory, with proceeds going to fight lupus, the disease that killed her.
Lucy Vodden's death in September reminded Beatle fans of the genesis of the "Sgt. Pepper" psychedelic classic.
Julian, John Lennon's son, brought home a picture he'd drawn in preschool. He titled it "Lucy in the Sky With Diamonds," providing his dad with material for the song.
Lennon always maintained the song was about the boy's drawing, not LSD, but the content and initials suggested otherwise.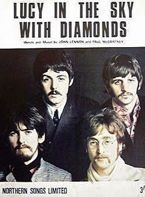 The new "Lucy" song was being recorded by Julian Lennon's colleague James Scott Cook near the time of Vodden's death at age 46. Lennon and Cook rewrote some of the lyrics and cut the "Lucy" record as a duet. Cook's grandmother, Lucy, also suffers from lupus.
Lennon looked up his old classmate after learning she had the autoimmune disease. "She created millions with her name," he told USA Today. "The least I could do was try to support her and make sure she was comfortable."
Vodden, who died at 46, tried to keep a low profile regarding the song. She liked the Beatles, but not "Lucy in the Sky with Diamonds." "I don't relate to the song, to that type of song," she told the Associated Press before she died.
The "Lucy" EP will feature a foldout copy of the original Lennon drawing (pictured). The digital download will be exclusive to the iTunes Store for now, as was the 40th anniversary release of "Give Peace a Chance give givegive givereleased by Lennon, Sean Lennon and Yoko Ono earlier this month. That single benefited the United Nations Peacebuilding Fund.
Lennon runs a new digital-media record label — theRevolution — whose first release will be "Lucy." Next year Lennon plans to release an album, "Everything Changes." The musician and filmmaker has not released new music in almost a decade.
"Lucy in the Sky with Diamonds" is a top 10 entry on our list of the Top 100 Psychedelic Songs of all time.