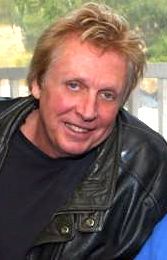 Drummer Joey Covington, who played on several late-period Jefferson Airplane albums, has died in a car accident. He was 67.
Covington played on several songs on the classic Airplane album "Volunteers" and on all of "Bark." He co-wrote a haunting hit for the Airplane, 1971's "Pretty as You Feel," which he sang with Grace Slick.
Covington was a resident of Palm Springs. His car slammed into a wall in the city on the afternoon of June 4.
Update: A Covington tribute concert is set for Aug. 31 in Palm Springs.
The drummer played with an early version of Hot Tuna, the Jefferson Airplane spinoff band led by Jorma Kaukonen and Jack Casady.
For the Jefferson Airplane, he played percussion as a sideman on the "Volunteers" songs "Turn My Life Down" and "Eskimo Blue Day." He performed onstage alongside the band's drummer Spencer Dryden, and eventually replaced him.
Covington appears on several songs on the final Airplane album, "Long John Silver." For Airplane mainstay Paul Kantner's solo project "Blows Against the Empire" he played drums as well.
Covington was a longtime friend of violinist Papa John Creach, also a member of the Airplane in its final years. Creach figured prominently on "Pretty as You Feel."
Covington wrote on his web site that some of his best work was on the Airplane songs "Mexico," "Have You Seen the Saucers" and "Lawman."
Covington started the band Fat Fandango after leaving the Airplane. He co-wrote the Jefferson Starship hit song "With Your Love" in the mid-'70s.
The Starship's Facebook page posted news of his death, with the comment: "Rest in peace, Joey."
He was the third full-time Airplane drummer to pass away. Skip Spence, who went on to star in Moby Grape, died in 1999. Spencer Dryden died in 2005.
In the early 1960s, Covington was one of the drummers for the Pennsylvania garage band the Fenways.
Police didn't believe alcohol or drugs were involved in the single-car crash that killed Covington, local reports said.