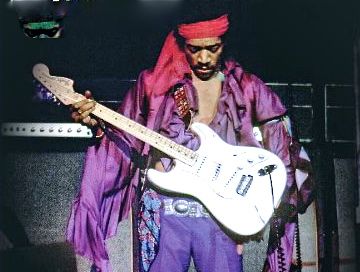 The famed and controversial Jimi Hendrix concert film "Jimi Plays Berkeley" returns in a "restored and newly expanded" edition July 10.
The Blu-ray and DVD version of the film contains more than 15 minutes of previously unreleased performance and documentary footage, the Hendrix estate said.
Bonus footage apparently comes from "Voodoo Child (Slight Return)," "Machine Gun" and "Hear My Train A Comin.'"
Longtime Hendrix engineer Eddie Kramer mixed the 5.1 surround stereo soundtrack for Experience Hendrix and Sony Legacy Recordings.
The expanded "Jimi Plays Berkeley"
includes an audio-only recording of the second set from that famed concert. It, too, features a new 5.1 mix.
That recording runs more than an hour and includes performances of "Pass It On (Straight Ahead)," "Hey Baby (New Rising Sun)," "Lover Man," "Stone Free," "Hey Joe," "I Don't Live Today," "Machine Gun," "Foxey Lady" and "Purple Haze."
(The same lineup of second-set songs was released audio-only on the 2003 "Berkely" DVD from MCA, with a CD version dubbed "Live at Berkeley.")
On July 10, the second set also will be released separately on CD and vinyl as "Jimi Hendrix Experience: Live At Berkeley (The Second Set)." The 12-inch double album was cut by Bernie Grundman from the master tapes and struck by Quality Record Pressings (QRP) on 200 gram vinyl.
Hendrix fans are still waiting for an official CD release of the complete first set, however. Songs from that set have been released in various formats over the years, however. The entire night's performances have been heavily bootlegged as well.
The May 1970 concert, considered one of Hendrix's best, was at the Berkeley (Calif.) Community Theater, with Mitch Mitchell on drums and Billy Cox on bass.
The concert film is not of particularly good quality, however, and includes unrelated documentary cut-ins that apparently were used to mask missing footage of Hendrix's performance. The director was Peter Pilafian.
The Hendrix family also unveils on July 10 a standalone version of the documentary "Jimi Hendrix: Voodoo Child" that was previously included in the "West Coast Seattle Boy" boxed set.
Meanwhile, the syndicated radio series "In the Studio" just aired an excellent profile of the Jimi Hendrix Experience's "Are You Experienced" LP on its 45th anniversary, calling the psychedelic work "the greatest debut album in rock history."
The radio show points out that by 1967, Hendrix — a black man playing hard rock — had been turned down by all of the U.S. labels. Animals bassist Chas Chandler, the British record producer, emerges as the hero of the radio docu for bringing the unknown Hendrix to London and introducing him to rock royalty.
The show makes the case that Chandler's contributions to Hendrix's success have been unjustly forgotten.
Hendrix biographer John McDermott says of Chandler, "He understood Jimi's big-picture vision," where future handlers did not. In the early days, Chandler was shopping the unusual interracial band while selling his own bass guitars to keep the enterprise going.
"Chas was his mentor, almost a father figure," Hendrix producer Eddie Kramer said. "Chas was the one who sat with him all night, helped him with lyrics, song structures. … If it was not for Chas, Jimi would not have been very successful."
McDermott said: "When Hendrix came to Monterey (Pop Festival), at that point was all so obvious. How could we have missed it? But a year before Hendrix was playing for peanuts in Greenwich Village, struggling to get noticed."
As for the drug use that allegedly fueled the early psychedelic recordings, producer Eddie Kramer said it wasn't so. "(Hendrix) was very straight when he recorded."
Listen to the "Are You Experienced" show.
Jimi Hendrix would have turned 70 this fall.
---
Jimi Hendrix store
(Primo picks from Amazon's stash)