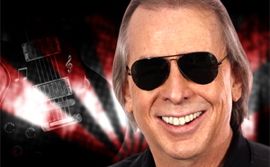 Veteran rock DJ Jim Ladd is going underground — via satellite.
Ladd, recently fired by longtime employer KLOS in Los Angeles, has found a home at Deep Tracks, the satellite radio channel reminiscent of the free-form FM stations of the 1960s and '70s.
(Update: Listen to Ladd's show on Deep Tracks from 7 p.m.-11 p.m. ET. Tom Petty's show airs earlier on Thursdays as part of the reshuffle, at 2 p.m. ET.)
He celebrated the news by blasting the "stagnant, preprogrammed fodder that passes for radio today."
Ladd, dubbed the "last DJ" by Tom Petty, was one of the few major-market rock radio hosts allowed to work without a playlist. He launches his nightly four-hour show in January, on SiriusXM Channel 27.
"I will be playing everything I want, from Pink Floyd to Tom Petty and the Heartbreakers, from the Doors to Moby Grape, freely and with no playlists," Ladd said. "As I have always done throughout my career, I will be choosing all my own music (and) creating thematic sets."
Ladd should prove a good fit for Deep Tracks, which focuses on lesser-known songs by top "underground" artists of the 1960s and '70s, such as Pink Floyd, Jimi Hendrix and Led Zeppelin.
The station's stated concept is to play songs that didn't chart, B-sides and live tracks. SiriusXM neighbor Classic Vinyl (channel 26) plays the era's FM hits.
Deep Tracks is the closest thing to a psychedelic station on the satellite service. The channel's "The Blacklight" program — "the finest in psychedelic rock" — is similar to Ladd's hourlong "Headsets" segments. The Grateful Dead also have a channel of their own.
Deep Tracks' big-name DJs are Bob Dylan and Tom Petty, both of whom do weekly free-form shows. Dylan's show is so popular that archived episodes of his "Theme Time Radio Hour" now run 24/7 on an Internet-only SiriusXM channel (805).
Ladd seems eager to burn his bridges with terrestrial broadcasting: "Traditional FM radio has turned its back on the very thing that made rock radio the magical experience it was intended to be," he said in the SiriusXM announcement of the deal.
"SiriusXM is kicking down the doors of the stagnant, preprogrammed fodder that passes for radio today by encouraging me to do my free-form show so we can all share this experience live as it happens."
KLOS' firing of Ladd came in a wave of layoffs created by Cumulus Radio's buyout of Citadel Broadcasting. He wasn't allowed a farewell show, so a local AM station offered him a one-time 3-hour slot to communicate with his fans. Rockers Roger Waters, John Fogerty, David Crosby, Jackson Browne, Slash and George Thorogood were among the well-wishers who phoned in.
Waters included Ladd in one of his concept albums and tours. Petty's "The Last DJ" song was written about Ladd.
Ladd, who calls himself "The Lonesome L.A. Cowboy," built his audience on the legendary L.A. station KMET. He wrote the tell-all book "Radio Waves: Life and Revolution on the FM Dial" (1992). A critic of the time greeted the release by saying that Ladd remains "trapped in a 1960s-1970s time warp."
For his satellite show, Ladd plans regular interviews with rock stars as well as listener call-ins. The Deep Tracks host most affected by the Ladd signing would appear to be Meg Griffin.
Before the satellite deal was announced Dec. 2, Ladd reportedly was in talks with the city's 100.3 The Sound.
SiriusXM chief Scott Greenstein said: "Jim Ladd is a classic rock radio icon who turned curating a list of songs into an art form. We are proud and excited to welcome his free-form style to SiriusXM."
Original MTV VJs Mark Goodman, Nina Blackwood, Alan Hunter and Martha Quinn also have shows on the satellite service.