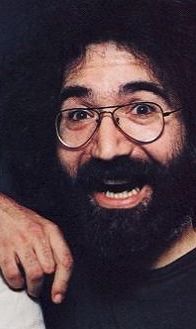 Captain Trips is going Hollywood as the story of Jerry Garcia's early years appears headed for the big screen.
Expected to be titled "Dark Star," the movie "will be psychedelic in the best sense," one writer says.
The independent film's director is Amir Bar-Lev, who made the excellent 2007 documentary "My Kids Could Paint That" as well as 2010's "Tillman." While a stream of documentaries have covered Garcia and the Grateful Dead over the years, this is a feature film.
The source material is Robert Greenfield's book "Dark Star: An Oral Biography of Jerry Garcia"
. (The guitarist died in 1995.) Greenfield told Rolling Stone's web site that the biopic would use period music, but since the film ends when the Grateful Dead begins, it's unlikely the jam band's songs would be heard.
(Update 8/4: Unlikely seems an understatement. Grateful Dead Productions and Jerry Garcia Family LLC made a point of announcing that the "supposed upcoming" biopic won't be allowed to use recordings by the Grateful Dead or from Jerry Garcia's solo work. Access to Garcia family members will be denied as well, the Dead organizations said.) /update
Greenfield compared the project with the acclaimed Beatles movie "Backbeat," which told the story of the Fab Four (or Five) before they became famous. "(Garcia) did things on electric guitar that weren't done before not because he had taken LSD but because of all the influences he absorbed throughout his life."
The Garcia project's screenwriter is Topper Lilien, whose previous movies "Where the Money Is" and "Dungeons & Dragons" were released in 2000. "Topper Lilien's daring script does justice to Garcia and steadfastly resists cliche," Bar-Lev told Variety, which broke the story.
Producing are Eric Eisner ("Hamlet 2") and the indie team of Albert Berger and Ron Yerxa ("Little Miss Sunshine").
Hollywood trades often float early-in-development projects in exchange for exclusivity. The Garcia biopic has no star or distributor, apparently, so there's no guarantee it'll come out soon — or at all.
The news comes days after Amy Adams ("Enchanted") was announced as the star of a Janis Joplin biopic called "Get It While You Can." "City of God's" Fernando Meirelles directs and "Twilight's" Wyck Godfrey produces.
"Nowhere Boy," a U.K. import about John Lennon's childhood, is making the festival circuit before its October release in the States.
More Grateful Dead content: