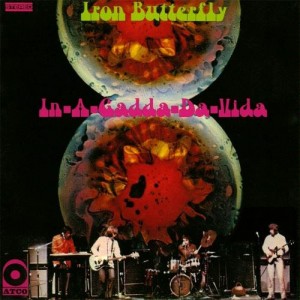 The surviving members of Iron Butterfly who recorded "In-a-Dadda-Da-Vida" have sued Warner Music Group over royalties from their psychedelic recordings of the late 1960s.
Doug Ingle, Lee Dorman and Ron Bushy filed the suit against several WMG entities Tuesday in New York state Supreme Court. They're seeking almost a quarter million dollars in payments, according to Bloomberg News. The "In-a-Gadda-Da-Vida" song
and album
are by far the most valuable recordings in the group's catalog.
Dorman v. Atlantic Recording Corp. pits the 1960s band against the record label that made them famous. Atlantic is now part of WMG, along with Elektra Entertainment Group and Warner/Chappell Music, also named in the complaint.
Guitarist Erik Brann, the fourth member of that incarnation of the band, died in 2003. (Iron Butterfly underwent numerous personnel changes, both before and after "In-a-Gadda-Da-Vida.")
Atlantic, under founder Ahmet Ertegun, released "In-a-Dadda-Da-Vida" the album in June 1968. The 17-minute title track became a sensation, and an edited version appeared as a single a month later.
The "In-a-Dadda-Da-Vida" lineup of Iron Butterfly (that is now suing) participated in Atlantic's 40th anniversary concert in the late 1980s. Dorman and Bushy have kept the band going over the decades, but Iron Butterfly was widely considered Ingle's band. The singer/organist wrote "In-a-Dadda-Da-Vida."
Meanwhile, Pink Floyd's recent legal victory over EMI was affirmed by a British appeals court on Tuesday. The band sued longtime label EMI over its online sales of individual tracks from albums such as "The Wall" and "Dark Side of the Moon."
(Update: Pink Floyd and EMI settled their differences and announced a new five-year deal on Dec. 4, 2011.)
Pink Floyd argued successfully that under a 1999 contract, EMI had rights to bring the psychedelic rock group's albums to market but not cut up as separate tracks, as is typically done on download music sites. Pink Floyd's songs often flowed thematically into each other on their concept albums.
In March, the chancellor of Britain's High Court said the had the right to defend "the artistic integrity" of its albums in both traditional and online media. EMI appealed the court's decision at the time.
Both iTunes and Amazon had individual Pink Floyd tracks for sale several days after the latest ruling.
EMI and Pink Floyd remain at legal odds over royalties and other aspects of their longtime business relationship, which began in 1967.
(Hat tip to David McLaughlin of Bloomberg.)