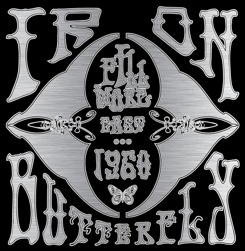 They've been going in and out of style since "In-A-Gadda-Da-Vida" first scorched earth in 1968. Looks like Iron Butterfly is in for another round of retro-appreciation.
On Oct. 17, the psychedelic heavies get the Rhino Handmade treatment with a live double-CD set recorded at the Fillmore East.
The CDs (and MP3s) capture the "classic" version of Iron Butterfly in April 1968, just after the band was rebuilt in the wake of their debut album. The album "In-A-Gadda-Da-Vida" would surface several months after these performances.
There are 22 songs recorded during a quartet of sets at the Bill Graham concert hall.
The line-up is singer/organist Doug Ingle, bassist Lee Dorman, teen guitarist Erik Brann and drummer Ron Bushy.
(Update: The Iron Butterfly live set
appears to be available only as an import as of early 2012.)
Here's Rhino's word on the audio for "Fillmore East 1968":
The well-defined sound heard on these previously unreleased recordings is the result of the quality of the original tapes and the meticulous restoration used to prepare them for this project. Original recording engineer Lee Osborne recorded all the shows using a four-track recorder running at 15 ips. Unfortunately, audio signal issues made the first two songs from the second set on April 26 unusable.
If those two songs were usable, they'd be repeats anyway. Like many collector's sets, "Fillmore East 1968" offers multiple versions of its tracks. (Alas, there is no repeat-free single CD.) "In-A-Gadda-Da-Vida," for instance, appears twice — in a 17:11 version and a slightly restrained 15:20 take.
The band's monster closing number, "Iron Butterfly Theme," shows up four times, running between 4 and 5 minutes. "Iron Butterfly Theme" is No. 30 on this site's list of the top 100 psychedelic songs.
The Butterfly gave the New York audience a preview of two other "In-A-Gadda-Da-Vida" album songs, "Are You Happy" and "My Mirage."
Other likely highlights are "Unconscious Power," "So-Lo" and "Possession," all from the debut album, "Heavy."
The collector's label also went psychedelic with "Box of Fudge" from Vanilla Fudge. We hold out much greater hopes for "Fillmore East 1968" as Iron Butterfly is a vastly underrated band (with the Fudge vastly overrated).