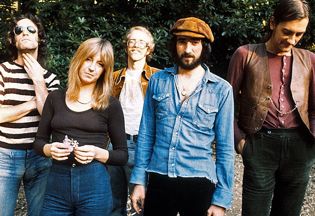 Two friends are having coffee together. Something flies by the window. Very strange.
A UFO? The astral traveler Don Juan? Perhaps it's a meaningless question in the alternate world of Bob Welch's "Hypnotized."
Fleetwood Mac, among the most famous bands in the world, remains best known for the beautifully crafted mid-'70s rock that took the world by storm. And, of course, for the early years with Peter Green and Jeremy Spencer in a unit that rolled out British blues with verve and authority. Both great bands, with two different sets of fans.
Truth is, Fleetwood Mac has been several distinct bands (with something like 10 lineups), the only link being drummer Mick Fleetwood and bassist John McVie. "Hypnotized" emerged from the somewhat forgotten Mac era of 1971-'74, which stretches from the departure of Peter Green to the hiring of U.S. duo Buckingham Nicks.
Guitarist Bob Welch, an American hired in 1971, wrote the song and performed it on the "Mystery to Me" album of 1973. (Incredibly, it was a B-side.) Along with the many Buckingham Nicks-era hits, it remains one of the most-popular Fleetwood Mac songs.
Welch (center in photo) wrote infectious pop-rock songs and smart ballads. His "Sentimental Lady," a slow-burning love song, highlighted 1972's "Bare Trees" and later became a hit single for Welch.
"Hypnotized" remains an FM radio staple, friendly to about any format from quiet storm to alternative. ASACP honored the song for 25 years of consecutive airplay.
"Hypnotized" is no smooth jazz excursion, even if the song streams along on the octaves of its West Coast guitar. Ask any stoner: This is a scratch-and-nod special.*
Lindsey Buckingham got it. Fleetwood Mac still played "Hypnotized" live in the mid-'70s. The new guitarist seized the song with a consciousness-shredding solo that ran maybe 5 minutes. Buckingham's acid rock interpretation would have sounded right at home on an Iron Butterfly album.
On the 1973 original, Mick Fleetwood plays with insistent primitivism, establishing a drone similar to his work on "Albatross," the great Peter Green song recorded by the first Mac. Not hard to imagine these hypnotic drums as the boombox at a peyote ceremony.
"There's no explaining what your imagination/Can make you see and feel," Welch confides.
"Hypnotized" reflects the mid-'70s fascination with the mystical and the otherworldly. Welch said the song was inspired by his stay at the English band's "rather spooky and strange" rural mansion.
The song benefits from Welch's conversational tone, as if we're hearing a tale told around a campfire. He begins: "It's the same kind of story/That seems to come down from long ago." The listener is relaxed, all ears. "Hypnotized" remains a work of the storyteller's art.
Welch had absorbed the works of Carlos Castanda, which still held water at the time. And so we have …
They say there's a place down in Mexico
Where a man can fly over mountains and hills
And he don't need an airplane or some kind of engine
And he never will
Welch was a strong believer in UFOs. (His personal web site contains repeated references to aliens and government cover-ups.)
In "Hypnotized," it looks like our man located a landing pad:
I remember a talk about
North Carolina and a strange, strange pond
You see the sides were like glass
In the thick of a forest without a road
And if any man's hand ever made that land
Then I think it would've showed
Christine McVie's dream-state backing vocals and the deceptively detailed production work complete the "Hypnotized" package.
Welch's tenure with Fleetwood Mac ended not long after the song was recorded. The band snubbed him at its Rock and Roll Hall of Fame induction, the backwash of royalty battles. (He remained friends with some of them.)
Welch later recalled that during his tenure Mac was "making the change from straight blues to the more harmony vocal-type sound. In fact, I think I helped them do that."
Bob Welch died of his own hand in June 2012, no doubt ready for the final surprise.
* Welch's drug problems included bouts with heroin. Drugs destroyed his career and he disappeared for decades.