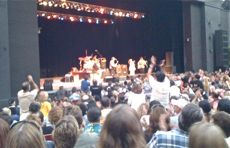 The Heroes of Woodstock tour plans to continue for at least one more night, ringing in the New Year at a New Mexico concert.
Jefferson Starship and Quicksilver Messenger Service are wrapping up a European swing before the holiday gig. They were joined on the summer Heroes of Woodstock tour by Big Brother and the Holding Company, Canned Heat, Country Joe McDonald and a few other acts such as Ten Years After and Mountain.
The concerts were far above the usual oldies merry-go-rounds, but nothing came near artistic triumphs — such as Jack Bruce's sets on last year's Hippiefest tour. The 50- and 60somethings who came to Heroes of Woodstock hoping for the hits got most of them. A few artists mentioned the Woodstock festival, but the tie-in proved largely marketing and packaging.
Headliner Jefferson Starship had but one Woodstock veteran, band leader Paul Kantner. The band performed all Airplane songs. The singer was Cathy Richardson, who displayed plenty of attitude as well as capable/passable vocals. Richardson didn't try to channel Grace Slick, to her credit. Her take on "White Rabbit" include some theatrics that were … plenty odd.
The "Airplane" came out swinging with Fred Neil's "Other Side of This Life," which the originals played at Woodstock. This version had plenty of muscle, as in decades past, promising more than the band ultimately delivered. Watering down the set was a jam session on "St. Stephen" that featured ex-Grateful Dead keyboardist Tom Constanten.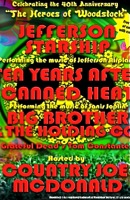 Country Joe MacDonald played host, singing some of his old band's psychedelic classics such as "Porpoise Mouth." In between acts, he abused deserving members of the audience ("I hate hippies") and led the Fish/Fuck cheer.
The early highlight was the Big Brother set, with singer Sophia Ramos getting her share of standing ovations as she sang the songs Janis Joplin made famous. She brought something to each number, but gave the Joplin fans a taste of the original. On some numbers, we swear, she actually outdid the late great singer.
Sure, Ramos' always-on showmanship felt a bit much for Joplin's raw classics, but there were undeniable thrills — cheap and otherwise.
The tour edition of the band featured three original members: guitarist Sam Andrew, bassist Peter Albin and drummer Dave Getz. Andrew made way for newcomer Ben Nieves, but still had some jaw-dropping chops to display on "Summertime."
Canned Heat, which has remained active through the decades, recording some decent albums along the way, brought their boogie vibe nightly. The hits included "Goin' Up the Country," "Let's Work Together" and "On the Road Again."
Original members Larry "The Mole" Taylor and Harvey "The Snake" Mandel made the trip, along with franchise player Fito de la Parra on drums. Bassist Greg Kage and guitarist/harp player Dale Spalding handled the bulk of vocals. Canned Heat in any form is worth seeing.
Ten Years After is fronted these days by Joe Gooch, a capable singer and guitarist in the awkward spot of subbing for long-gone Alvin Lee. While he hit all the licks and sang all the right lyrics, the fire and passion must have been buried in the mix.
This was no cover act, however, considering Ten Years After came with original members Leo Lyons (bass), Chick Churchill (keyboards) and Ric Lee (drums). Lyons' classic bass runs brought on cheers, as on "Good Morning Little Schoolgirl." In L.A., the audience got off on "I'm Going Home" and a couple of rockers, but seemed lukewarm on the relatively lengthy set.
Mountain played some of the tour's stops, but unfortunately none on the left coast. The New York Times noted that band leader Leslie West was "rasping and yowling and making his guitar sear through a flamboyant set" during the stop in the Woodstock area of Bethel, N.Y. He married his fiance on stage, and immediately ripped into "Mississippi Queen." Awww.
The "Airplane," Country Joe, Canned Heat and Big Brother are doing the New Year's Eve gig.