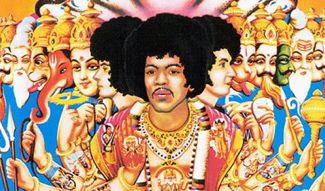 New Rolling Stone cover boy Jimi Hendrix is coming to the game "Rock Band," in the latest marketing move from the late guitar god's estate.
"Axis: Bold as Love" kicks off the Hendrix gaming releases, along with a download of the "new" Hendrix single, "Valleys of Neptune."
Meanwhile, on the album charts, "Valleys of Neptune," which debuted at No. 4 on the Billboard 200, this week slips to No. 7. "Are You Experienced" fell from 44 to 118, "Electric Ladyland" saw its No. 60 turn into No. 164 and "Axis Bold as Love" went from 67 to 178.
Rolling Stone, which first reported on the Hendrix Rock Band, said a Hendrix avatar, plastic game guitars and Beatles-style game are possibly in the mix once all songs are available for download.
The "Axis" songs plus "Neptune" come to XBox360 and Nintendo Wii on March 30 and to PS3 two days later. Unfortunately, the "Axis"-opening alien skit "EXP" has been dumped as "not suitable for game play," instead of logically pairing it with "Up From the Skies."
The songs will go for the standard price of $2, while the album is available for $20. A few songs are being withheld for the LEGO Rock Band. (Beware of fake-guitar-shattering tantrums once Junior figures out he's not getting "Castles Made of Sand.")
An MTV Games exec told Rolling Stone that the songs would have "improved sonics," which would be odd but welcome since fans are dismissing the Hendrix reissues as having audio that's identical to the 1997 CDs.
Due for download release on Rock Band are the first three classic Hendrix albums plus the posthumous "First Rays of the Rising Sun."
The Hendrix family said in February that a Hendrix-themed Rock Band game could be coming, but the DLC packs are it for now.
---
Jimi Hendrix store
(Primo picks from Amazon's stash)