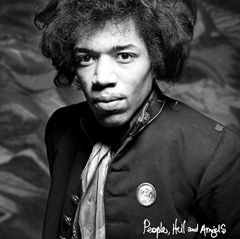 A "new" album of unreleased studio recordings by Jimi Hendrix is due in March. The compilation is billed as "a musical companion piece and successor" to 2010's well-received "Valleys Of Neptune."
The 12 recordings on "People, Hell & Angels" show Hendrix developing his music outside the hitmaking group the Jimi Hendrix Experience, the guitarist's estate said in announcing the March 5 release.
The tracks were created between 1968 and 1970, mostly at New York's Record Plant and Hit Factory.
The album offers "a variety of unique sounds and styles incorporating many of the elements — horns, keyboards, percussion and second guitar — Jimi wanted to incorporate within his new music," Experience Hendrix LLC and label Legacy Recordings said.
News of the Hendrix album was released Nov. 26, on the eve of what would have been Hendrix's 70th birthday.
The "People, Hell & Angels" recordings apparently were ramp-ups to "First Rays of the New Rising Sun," Hendrix's planned double-album sequel to "Electric Ladyland."
Update: The advance track "Somewhere," with Buddy Miles and Stephen Stills, below, premiered Jan. 8. (text continues)
Key players are Hendrix pals Billy Cox and Buddy Miles, with whom he would go on to form Band of Gypsys at the end of 1969.
Eddie Kramer, who engineered the Jimi Hendrix Experience's original albums, is aboard as co-producer of "People, Hell & Angels": "In '68 and '69, Jimi was in the studio constantly," Kramer recalls. "His whole life was in the studio."
About half of the songs will be familiar to the Hendrix faithful in one form or another: "Earth Blues," "Easy Blues," "Hear My Train a Comin,' "Crash Landing," "Izabella" and "Villanova Junction Blues."
Other tracks include "Somewhere" (with Stephen Stills), "Bleeding Heart" (Elmore James song), "Let Me Move You" (with saxophonist Lonnie Youngblood) and "Mojo Man" (with Harlem singers Albert & Arthur Allen).
Of course there will be audiophile vinyl. Quality Record Pressings is creating the 200-gram vinyl version. "When you can get historical (recordings to press), those are certain ones you get more excited about," says QRP's master lacquer plating tech, Gary Salstrom. "You can't get too much higher profile than (Hendrix)."
Other Hendrix releases from the estate and Legacy include the box set "West Coast Seattle Boy," "Valleys of Neptune" and the 2009 rereleases of the three official Jimi Hendrix Experience albums.
More Jimi Hendrix content:
---
Jimi Hendrix store
(Primo picks from Amazon's stash)