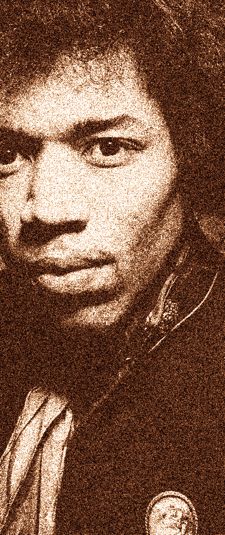 Somewhere, far, far away — in some alternate universe — exists a Jimi Hendrix album. A wizard's work. A feat of alchemy. "First Rays of the New Rising Sun," he calls it. Or maybe even "People, Hell and Angels."
Hendrix synthesizes psychedelic rock, progressive jazz, hard blues, proto-metal, funk and R&B into a new-breed thing. It astonishes listeners, slamming into the music world with no less an impact than "Are You Experienced" did in 1967.
Or so the fantasy goes.
The posthumous evidence suggests nothing of the sort, at least based on the studio recordings Hendrix made after leaving the Experience. Including those songs found on the latest "new" Hendrix album, "People, Hell and Angels."
A cynic or apologist would say Hendrix was lost in the late 1960s without producer Chas Chandler, who walked out on the circus that was the "Electric Ladyland" sessions. That third Experience album was the sound of things falling apart, part of its charm.
Based on the studio work that followed, Hendrix had the songs to continue his remarkable run, but perhaps not the vision to cohere them. Just before dying in 1970, he reportedly spoke of getting the old team back together — the musicians and producers of the first two Experience albums.
"People, Hell and Angels" is billed as "a musical companion piece and successor" to 2010's well-received "Valleys Of Neptune," both from the Hendrix estate and Sony Legacy. The "People, Hell and Angels" tracks were created between 1968 and 1970, mostly at New York's Record Plant and Hit Factory.
The recordings seem to be ramp-ups to "First Rays of the New Rising Sun," Hendrix's planned double-album sequel to "Electric Ladyland." At least that's a charitable interpretation.
Given the circumstances, though, this new assemblage of studio tracks plays remarkably well as an album. No overdubs were used, with Hendix sound guru Eddie Kramer providing a stark and honest look at the guitarist in his final years.
No mysteries about Hendrix's musical aspirations are solved. Regardless, Hendrix documented his mindset of 1970 with the Band of Gypsys' live album. Hendrix formed the all-black combo with Buddy Miles and Billy Cox, whose work can be heard on many of the "People, Hell & Angels" recordings.
The recordings on "People, Hell & Angels" offer little new, in several senses. Particularly not for the Hendrix hardcore, who heard almost all of these songs and riffs before.
Mostly, "People, Hell & Angels" is a rock guitar album, a restatement of major themes played by one of the best there ever was. Eric Clapton and Jeff Beck made a few albums like that, some worse than this.
As for the "unique sounds and styles" promised in the promos … they're MIA, alas. Hendrix gets back to his R&B roots, throws down some funk, glides through a bit of octave-smooth jazz, teases listeners with his promised "new type of blues." Little of the material transcends studio chaff status, really — at least when measured by the impossibly high standards of the Experience studio albums.
There is no "Angel" or "Freedom" here, but stand by for some tasty songwriting. The opening one-two punch of "Earth Blues" and "Somewhere" lands squarely.
The wah-wah tour-de-force and aw-shucks vocals make "Somewhere" the obvious emphasis track, topping the charts in February. Stephen Stills slums on bass with Miles working hard to impress on drums.
"Here My Train a Comin'" remains a posthumous Hendrix classic, best known in its acoustic blues version. This time out, it's a ballsy midtempo blues rocker, recalling "Red House" and the work of Buddy Guy. Hendrix's Strat sings the blues, and it's beauty. But we just heard a similar version on 2010's "Valleys of Neptune."
Next up is "Bleeding Heart," an Elmore James number that plays like a jam. No more, no less. Bootleg enthusiasts may remember the song as one played by Hendrix at the Scene club with a shit-faced Jim Morrison along for the ride. A crisp version of "Bleeding Heart" appears on "Valleys of Neptune," perhaps accounting for the mid-song fade-out here.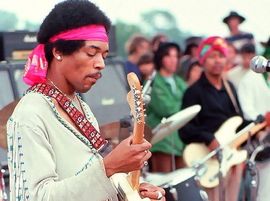 "Villanova Junction Blues" also gets a quick fade. The gorgeous instrumental backed the elegiac final scenes of the "Woodstock" movie, and it's a pleasure to revisit, even at 1:44.
"Let Me Move You" brings in Hendrix's old boss, singer-saxman Lonnie Youngblood, with Hendrix chopping his way through familiar R&B chords. The lengthy number is far from finished, a curiosity, the stuff of bootlegs.
Things brighten up considerably with the instrumental "Easy Blues," in which Hendrix meets "Killer Joe." Reminiscent in a good way of "Up From the Skies," it's the closest thing to jazz on the album. Mitch Mitchell reprises his clever drum work from the earlier "Axis: Bold as Love" song. A rhythm guitarist, Larry Lee, is in the mix, along with bassist Cox. (That's the Woodstock band.)
"Izabella" is another familiar number. Perhaps you heard it at Woodstock. "Crash Landing" and "Inside Out" thwap and plod along, with Hendrix reverting to "Foxy Lady" on the latter. A gaggle of horns provide clutter.
The brass snaps back on "Mojo Man," with old friends Albert and Arthur Allen in the lead. Sly Stone was blistering hot at the time — as hot as Hendrix was in 1967 — and you can hear his influence here.
Where would Hendrix have gone from these studio recordings? The Hendrix counterfactuals are endless and ultimately pointless.
Perhaps the guitarist would have combined his love of science fiction, hard rock and R&B into something funkadelic. Perhaps Hendrix's flybys with jazz would have solidified into an easier-going "Bitches Brew." Perhaps he would have reunited with producer Chandler and the Experience for another lysergic masterpiece or two.
Here's guessing he would not have released an album like "People, Hell and Angels.: Or the purported "First Rays of the New Rising Sun" (of 1997). Or "Volcanoes of Neptune." At the DNA level, they are sophisticated bootlegs packaged as real studio albums. Nothing wrong with that, unless kids really think they are real Jimi Hendrix albums.
Then again, some Hendrix fans feel the album "Crash Landing" was his best work. Who's to say they're wrong. But they are.
* * * * *
Those of us with gray beards recall the thrill of going into a record shop and buying the new Hendrix album. I never forgot spotting the psychedelic cover of "Are You Experienced" in the bins and being gobsmacked by the artwork's promise of strange new sounds from afar. Truth in advertising.
Vinyl-retrofitted Hendrix fans can get that thrill in 2013 virtual, thanks to the rerelease of the first two Experience albums — in mono and lovingly cut to 200 gram platters. They're out on the same day as "People, Hell and Angels," March 5.
The new "Are You Experienced" and "Axis: Bold as Love" discs were produced from the mono mixes created by producer Chandler, engineer Kramer and Hendrix. These original mixes — from the two-track mix-down master tapes — have been unavailable since 1967/1968, audiophile outfit Quality Record Pressings maintains.
"Experienced" gets back to the 11-track U.S. version, complete with that fish-eye cover. For purists, there's also a 200 gram rerelease of the U.K. version. Bernie Grundman and Gary Salstrom mastered and plated the mono Hendrix albums, respectively.