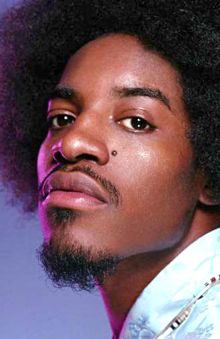 The estate of Jimi Hendrix continues to dump on the long-delayed biopic that includes Andre Benjamin, left, as the psychedelic guitar god.
Experience Hendrix "has made it known many times in the past that no such film, were it to include original music or copyrights created by Jimi Hendrix, can be undertaken without its full participation," the company said in a statement.
The move will come as no shock to the makers of "All Is By My Side," reportedly about to begin product in Ireland. The film covers the period in which Hendrix emerged in London and went on to stun the world with the debut album "Are You Experienced."
(Update: See photos of Andre Benjamin as Hendrix, apparently taken on the set.)
Benjamin, of course, is a famous musician as well, being half of the progressive group Outkast. The film's writer-director is John Ridley ("Three Kings"). IMDB does not list the film on either man's credits/projects page, however.
The production company is Richard Kelly's Darko Entertainment, working with Subotica Entertaiment and Matador Pictures, the Hollywood Reporter said in confirming the Hendrix film plans.
The lack of actual Hendrix recordings no doubt could be circumvented by use of covers, which Hendrix recorded throughout his career. The best known is Bob Dylan's "All Along the Watchtower." The movie would not need the estate's permission. This technique was used successfully in a few Beatles-related projects, notably "Backbeat."
Despite the continuing fascination with the psychedelic guitarist's life and work, no biopic of consequence has survived pre-production. Showtime did a cable film in 2000 with Wood Harris ("The Wire") and Billy Zane.
The Hendix estate said it "had not ruled out a biopic in the future."
"Producing partners would, out of necessity, have to involve the company from the inception of any such film project if it is to include original Jimi Hendrix music or compositions," the statement released to Billboard said.
Hendrix's name, music and image were heavily exploited in the years following his death. The family eventually sorted out its internal disputes and took control of the Jimi Hendrix legacy. It has closely guarded all things Hendrix.