Mickey Hart will dig deep into psycho-acoustic music on his band's upcoming tour, with the drummer donning an EEG cap in order to play "the sounds of my brain."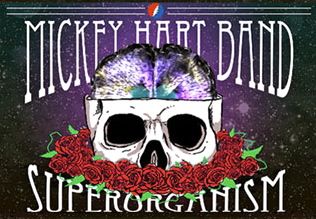 The Mickey Hart Band's "Superorganism" tour begins Aug. 1 in Healdsburg, Calif., with stops in at least 30 cities, including Portland, Seattle, Minneapolis, Chicago, Pittsburgh, San Francisco, L.A., Las Vegas and Athens, Ga. It ends in late September.
"Superorganism" is the band's new album, set for release Aug. 13. For Hart's last album, "Mysterium Tremendum," he "sonified" light waves from space, working with astronomers. This time, it's a journey inward, into the body's microcosmos.
The longtime Grateful Dead drummer has been working with neuroscientist Adam Gazzaley on a project called Rhythm and the Brain, which seeks to improve the quality of life through experiments with neurofeedback, neuromodulation and musical therapy (video below).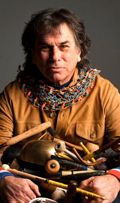 The EEG, or electroencephalogram, works via electrodes placed on a person's head. It measures electrical activity within a brain. For the "Superorganism" tour, Hart's brain activity while he plays percussion will be displayed to the audience via a video screen. He calls the brain "rhythm central."
In addition to brain waves, Hart utilizes the sounds of stem cells and heart rhythms, exploring "this vibratory mystery we call music." Hart became interested in the area when he saw the positive effects of his playing on his grandmother, who suffered from dementia. He says the goal is to help people with diseases such as Parkinson's and Alzheimer's:
Rhythm centers the brain. … Once you understand the brain's resonance then you can change it. You can train it, you can get in sync with it, you can do things with it that you're not aware of doing now. … It's not real medicine yet just therapeutic in some way.
In making psycho-acoustic music, Hart follows in the footsteps of Alvin Lucier, whose avant-garde works include 1965's "Music for Solo Performer for Enormously Amplified Brain Waves and Percussion."
As with "Mysterium Tremendum," Hart worked with Grateful Dead lyricist Robert Hunter on the new album, which is being released just before his 70th birthday. (A freebie download of a new Hart-Hunter song is available on Hart's web site.)
Hart also is known as a prolific ethnomusicologist. Two years ago, the drummer donated his archive of world music recordings to the Smithsonian Institute. He also has worked with the Library of Congress.
Hart and his band reportedly are set to play the Jerusalem Sacred Music Festival on Aug. 22, during a break in the North American tour.
The Mickey Hart band members are percussionist Sikiru Adepoju, singers Crystal Monee Hall and Joe Bagale, drummer Greg Schutte, guitarist Gawain Matthews, bass player Reed Mathis, and keyboardist Jonah Sharp.
Opening most of the shows is Tea Leaf Trio, which includes Mathis.
Here are the Mickey Hart Band "Superorganism" tour stops:
Aug. 1: Raven Theater in Healdsburg, Calif.
Aug. 2: Roseland Theater in Portland
Aug. 3: The Showbox in Seattle
Aug. 4: Kaslo Bay Park in Kaslo, British Columbia
Aug. 5: Emerson Cultural Center in Bozeman, Mont.
Aug. 7: Mill City Nights in Minneapolis
Aug. 9: House Of Blues in Chicago
Aug. 10: Kent Stage in Kent, Ohio
Aug. 11: Festival of Friends in Jerseyville, Ontario
Aug. 13: The Town Ballroom in Buffalo
Aug. 15: Mr. Smalls Theatre in Millvale, Pa.
Aug. 16: Norwalk Concert Hall in Norwalk, Conn.
Aug. 17: Paramount Theater in Huntington, N.Y.
Aug. 18: Port City Music Hall in Portland, Maine
Sept. 5: Arcata Theater in Arcata, Calif.
Sept. 6: The Fillmore in San Francisco
Sept. 7: House of Blues in West Hollywood
Sept. 9: House of Blues in San Diego
Sept. 10: Marquee Theatre in Tempe, Ariz.
Sept. 11: Hard Rock Cafe in Las Vegas
Sept. 13: Park City Live in Park City, Utah
Sept. 14/15: Telluride Blues & Brews Festival, Colorado
Sept. 16: The Crossroads in Kansas City, Mo.
Sept. 17: The Pageant in St. Louis, Mo.
Sept. 19: Metropolitan Theater in Morgantown, W.Va.
Sept. 21: Capitol Theatre in Port Chester, N.Y.
Sept. 23: Georgia Theatre in Athens, Ga.
Sept. 24: The Orange Peel in Asheville, N.C.
Sept. 26: Musikfest in Bethlehem, Penn.
---
Grateful Dead store
(Getting high on Amazon's supply)