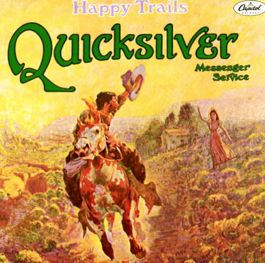 Bo Diddley didn't do psychedelic. Yet, somehow, the primal rock 'n' roller received credit for writing most of one of the hippie era's darkest and most imaginative albums.
Diddley and Quicksilver Messenger Service were strange bedfellows — Diddley claimed decades later to never had heard of the psychedelic rangers — but the arm's-length collaboration produced more than a half hour of mindbending rock, spread across two songs.
While 1969's "Happy Trails" is mostly a live album, it's considered an important original work from the San Francisco ballroom scene, along the lines of the Grateful Dead's 1968 "Anthem of the Sun." The albums were breakthroughs for both sophomore bands.
As with "Anthem," the "Happy Trails" live recordings were spiced & spaced with studio overdubs. The Quicksilver jams were recorded in 1968 at the Fillmores East and West. (View Quicksilver set lists from the Fillmores.)
Sixties music aficionados take note of all this because of "Happy Trail's" two jaw-dropping songs featuring the dual guitar attack of John Cipollina and Gary Duncan.
One, a 25-minute suite, sort of, brought Diddley's propulsive "Who Do You Love" into the psychedelic era. Quicksilver's acid-rock workout sprawled across side 1 (sequenced as "movements" with silly subtitled takes on Diddley's title).
The album's flip side served up another killer version of a Diddley rocker, "Mona," clocking in at a mere 7 minutes. Two group instrumentals follow, including the cinematic "Calvary." The album's title hails from the closing novelty number, a clip-clop cover of Dale Evans Rogers' sunny "Happy Trails."
Most of the fireworks were found on side 1: "Describing ('Who Do You Love') is almost like trying to explain the plot of a movie by Godard," a young Greil Marcus wrote in his rave review for Rolling Stone. Amid the guitar heroics comes "an interlude of yelling and shouting by the audience, the participation of the listeners almost like a 'found object' out of Dada."
"Who Do You Love" was "hippie jazz" at its best — dark, improvised drug music, potent and scary. Dionysian. The audience's tribal chanting and howling fits so perfectly as to sound rehearsed, lending a primal urgency to the proceedings.
"Mono" stays closer to the Diddley original, with plodding midtempo drums elevated by some tasteful wah-wah. The musicians wander off for a lengthy middle section before returning to rock the main theme.
Then come a few originals by guitarist Duncan, beginning with the transitional "Maiden of the Cancer Moon," a fairly generic piece of Bay Area squalling guitar.
"Calvary," also credited to Duncan, brings echoes of Ennio Morricone — imagine the Italian spaghetti western maestro on acid. Fans have long speculated that the title is a misspelling of "cavalry," especially given the piece's being followed by the album's concluding TV western theme.
On "Happy Trails," the boys sing: "It's the way you ride the trail that counts. … Happy trails to you, until we meet again." The ditty would be the classic lineup's swan song, with guitarist Duncan suddenly quitting the band (although he'd return).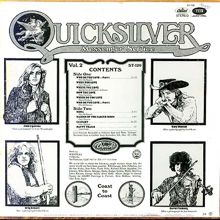 The challenging and largely instrumental LP "Happy Trails" remained a specialty item over the decades; the album never found lasting fame of the sort that awaited "Surrealistic Pillow" or "American Beauty" or other key artifacts of the time and place.
In fact, Quicksilver's first two albums — considered their best by many — suffered from stumble-bum treatment over the years, even going out of print. The recent music business interest in rereleasing Quicksilver Messenger Service's early psychedelic albums comes after decades of neglect.
The band name lived on, however: Quicksilver would be taken over by band associate Dino Valenti, creator of the group's radio-friendly hits "Fresh Air" and "What About Me."
The album's old west cover art also remains familiar, and can claim a certain prescience as it predated the counterculture's early 1970's fascination with all things country. (Band members lived on a ranch during their heyday.) The George Hunter art brings to mind Frederic Remington, and appears to star the same country damsel from Hunter's cover for "It's a Beautiful Day."
Liner notes: Live albums became an artform in 1969. "Happy Trails" shared record bins with "Live/Dead" and "Bless Its Pointed Little Head," all three recorded in large part at the Fillmores. Meanwhile, from England, came Pink Floyd's "Ummagumma," whose live disc was another dark and aggressive work of psychedelia.