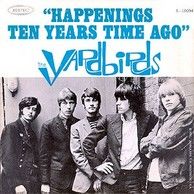 From the intersection of freak out and rave up comes the Yardbirds' massive "Happenings Ten Years Time Ago," often cited as the first psychedelic rock song.
The slash-and-burn number featured the Yardbirds' ephemeral duo-guitar attack of Jeff Beck and Jimmy Page. Recorded in July of 1966, the song seemingly touched every other rock musician who mattered for the rest of the decade, notably Jimi Hendrix.
"Happenings Ten Years Time Ago" anticipated acid rock, punk and heavy metal. Nothing like it had ever been recorded — with the possible exception of Love's frantic "7 and 7 Is," cut in the same month.
"Happenings" begins innocently enough, with a bit of the raga-influenced guitar that the Yardbirds favored that year. A propulsive run down the guitar neck sparks the sonic storm. Singer Keith Relf sounds dazed and confused as he tries to sort out a waking dream, a serious case of deja vu or perhaps an acid flashback:
Meeting people on my way
Seemingly I've known one day
Familiarity of things
That my dreaming always brings
When the Yardbirds' signature rave-up comes, it's the sound of chaos, of Vishnu at work, an eerily accurate sonic representation of a bad trip.
As Telecaster masters Beck and Page shred their ways through the instrumental break, we hear a European police siren wailing in and out. There's an explosion or two and a distant Cockney voice shaming: "Pop group, are you? You should get your hair cut!"
Yardbirds member Chris Dreja recalls it as a "miniature rock opera." Hendrix reportedly told Beck that the number inspired his "Third Stone From the Sun."
The song came out as a single a few months after the Yardbirds album now known as "Roger the Engineer" — aka "The Yardbirds" and "Over Under Sideways Down." It enjoyed modest success on the charts, the last single to do so for the hitmaking band. ("Happenings" now appears as a track on "Roger the Engineer.")
In the U.K., the "Happenings" flip side had "Psycho Daisies," a forgettable Jeff Beck song in which he sings about his actress girlfriend. In America, the ballsy bluesy "The Nazz Are Blue" lit up the B side, making for a powerhouse 45. (Young Todd Rundgren named his pop band after "Nazz." )
Jeff Beck was on his way out of the British rock band, while Jimmy Page made his move from bass to guitar. The bass player on the session was future Led Zeppelin bassist John Paul Jones, and indeed "Happenings" brings to mind that future rock institution. (The band that became Led Zeppelin toured briefly under the name the New Yardbirds.)
The Yardbirds reunion group included the psychedelic blowout on the 2003 album "Birdland." Rundgren went on to record a note-perfect version of "Happenings Ten Years Time Ago" and, of course, the myriad covers keep on rolling.
(View more Yardbirds videos)
Further reading:
The Book of Seth on "Happenings Ten Years Time Ago" single
Jeff Beck: The Early Years (Fanzine)