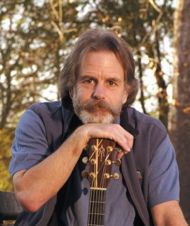 Bob Weir's intriguing "First Fusion" collaboration with the Marin Symphony is fading away.
The concert, which would have brought Grateful Dead classics to the other long-hair music, has been "reluctantly" postponed because of poor ticket sales.
Weir had been working with Italian composer and arranger Giancarlo Aquilanti for the psychedelic-symphonic concert, planned for Oct. 22.
Tickets were going for up to $350. They'll be refunded. The show was a benefit for the symphony and its educational programs.
Perhaps there's hope for "Dark Star" in symphonic form, though. Technically, it's a postponement. Noralee Monestere, the symphony's executive director, told the Marin Independent Journal that "the postponement was realistic and in the best interest of both parties."
Ticketmaster lists the concert as "canceled."
The plan was for a two-part evening. First the entire symphony was to dress up a handful of Dead classics. After that, Weir and Quartet San Francisco (backed by some symphony players) were to perform music that was "improvised, imaginative, impassioned."