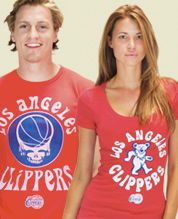 The studio-tanned Grateful Dead weren't known for their athleticism — unless hourlong workouts on "Dark Star" count — but the band's sports connection keeps getting stronger.
Sports stars and the Dead aren't quite the strange bedfellows they would seem. Perhaps you caught the recent documentary about the band coming to the financial rescue of the 1992 Lithuanian national basketball team.
Various sports celebrities professed their Dead fanhood over the years, including official mascot Bill Walton.
The former pro basketball star says the band's influence on him was up there with that of UCLA's John Wooden, high praise indeed. Walton is enshrined in the Dead organization's hall of fame and serves on the board of the Rex Foundation, the band's charitable unit. Deadheads dubbed him "Grateful Red."
Now comes the NBA lineup of Dead T-shirts, put out by sports clothing outfit Sportiqe. For the men, the "Steal Your Face" skull, encircled by the team of choice's name. For the ladies, the famous dancing bear.
Teams include the Knicks, Lakers, Clippers, Celtics, Heat, Nets, Warriors (of course), Bulls and Thunder. The shirts go for $35 and they're up for preorder on the Sportiqe/NBA site.
The Dead marketing machine has made a slew of product deals, some cool and some yucky, but this one feels special. The shirts look great and should end up serious collectors items. The Psychedelic Sight team soon will be seen in Clippers and Bulls shirts.
And, yes, somewhere out there in marketing land you can buy replicas of the tie-dyed T-shirts given to the Lithuanian athletes by the Dead — complete with a skeleton taking one to the house.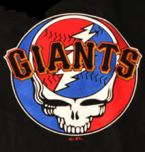 The Dead's a hit with pro baseball, too, at least in San Francisco. The San Francisco Giants hosted three Dead/Jerry Garcia nights from 2010-2012. The Dead round the bases again Aug. 5 as the world champs take on the Brewers.
Once again, band members and the Garcia family will be on hand. Tickets for the Giants-Dead night run $90. That includes a "a collector-edition Grateful Dead-themed Giants item," the ball club's web site says.
Last year, the 42,000 on hand got a sneak preview of "Jerry: The Movie."
The Giants also have a group hug for San Francisco psychedelic music impresario Bill Graham, with a tribute night Sept. 6. That one supports the Bill Graham Memorial Foundation. "Star Wars" and Metallica get their nights, too.
More Grateful Dead content from Psychedelic Sight: