The 2017 Deadhead meet-up celebrates the 40th anniversary of the good old "Grateful Dead Movie."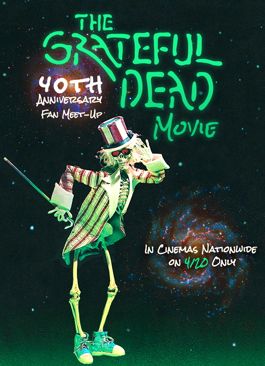 The feature film screens at 7 p.m. local time on Thursday, April 20, accompanied by footage from the upcoming Dead docu "Long Strange Trip." There's also a "mini-documentary" about the band's May 8, 1977, show at Cornell University, one of those storied Dead gigs.
The Grateful Dead Meet-Up at the Movies began in 2011 and has carried on once a year ever since. The first Meet-Up also featured (a restored) "The Grateful Dead Movie."
Pay-per-view specialist Fathom Events organizes and manages the screenings. Venue information and tickets for the 2017 Meet-Up can be accessed via the Fathom web site.
Meanwhile, the Dead documentary "Long Strange Trip" will premiere in cinemas in New York and Los Angeles on May 26, presumably to qualify for awards consideration. The multipart docu streams on Amazon starting in early June. A soundtrack CD with "rare and previously unreleased Grateful Dead recordings" also bows May 26.
"The Grateful Dead Movie," co-directed by band guitarist Jerry Garcia, chronicles a five-night stand at Winterland in San Francisco. In addition to the music, it's known for the opening psychedelic animation sequence of the Dead's dancing Uncle Sam skeleton. The groundbreaking animation reportedly cost as much as the rest of the film.
The 1977 film was created as a substitute for the band's touring, but the Dead soon returned to the road anyway. The shows were billed as a "farewell" stand as the band was on the verge of breaking up.
The Winterland stand also marked the return to the Dead of second drummer Mickey Hart, who joined near the end of the run and remained for the rest of the group's career.
The band included Keith Godchaux and Donna Godchaux. Songs span the Dead catalog up until that time, stretching from to "Morning Dew" to "Eyes of the World."
Deadhead favorites include "Playing in the Band," "One More Saturday Night," "Casey Jones," "Stella Blue" and "Sugar Magnolia."
"The Grateful Dead Movie" also is known for its focus on Deadheads and the overall Dead phenomenon that was in full bloom at the time. Fans receive almost as much attention as the band, with plenty of footage of them — some cool, some annoying.
The film was a staple on the midnight movie circuit and has enjoyed a long life on home video.
The Cornell University concert looms large in current Dead marketing efforts, as it's captured in the 11-CD box set "Get Shown the Light."
The multipart "Long Strange Trip," directed by Amir Bar-Lev and executive produced by by Martin Scorsese, will debut on Amazon Prime Video on June 2.
The 2016 Dead Meet-Up featured the entire Dead concert from Sullivan Stadium in Foxboro, Massachusetts, dating back to July 2, 1989.
More Grateful Dead content from Psychedelic Sight: