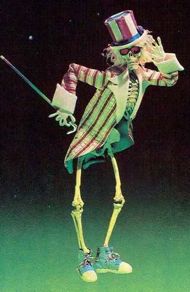 Tired of your Grateful Dead jigsaw puzzles? Had enough of the Grateful Deadopoly board game? Good news: Soon you'll be playing with the band.
"We're planning to design an interactive masterpiece," the developer of an upcoming online Dead game says. It's being described as "sort of a psychedelic journey through Grateful Dead history" and a "social game."
Release is set for Aug. 1 with access via dead.net, Facebook and some game portals. The unnamed game will be free (in the Dead spirit) but in-game revenue models might emerge. Fans' input is being sought.
"From the first click the player will enter into a universe of Grateful Dead music, sounds, and visuals," developer Curious Sense vows. "Games and activities will reside within several regions of the world, each designed according to a theme from Grateful Dead lore — the Old West, space, San Francisco, Giza."
Expect plenty of top-hatted skeletons and roses from the most iconic band of them all. The soundtrack will come from the Dead's records. Game players apparently will be able to remix and mash-up the music. The animated sequence from "The Grateful Dead Movie" could be part of the action.
The Dead already have a trivia board game and have licensed three "packs" of songs to Rock Band. Then there are the jigsaw puzzles, "Steal Your Face" playing cards and an edition of Monopoly. No wonder someone wrote a book titled "Marketing Lessons from the Grateful Dead."
North Carolina-based Curious Sense — which gets its name from a line in the Dead song "St. Stephen" — is working with Grateful Dead Productions and Rhino Entertainment, which manages the band's intellectual property. The Deadhead-run gaming company has done work for REO Speedwagon and the record labels Island, Epic, Geffen and Def Jam.
The game developer's website features a "Survey of the Grateful Dead Experience" that will test some fans' attention spans. Questions include: "What is a Grateful Dead memory that you cherish?" and "What 5 songs give you a taste of the spectrum of their music?"