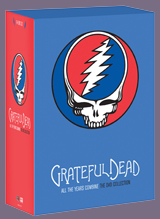 There is no such thing as too much Grateful Dead, apparently.
Adding to the mountain of Dead software that's been released in the past 12 months, we have on the horizon the 14-DVD box set "All the Years Combine: The DVD Collection" from Shout! Factory.
The Dead box set drops April 17, just in time for workingman Dead fans to tap their tax refund checks for the $100.
Shout! as you may recall rereleased "The Grateful Dead Movie" in high definition Nov. 1. The movie (this time in standard def) anchors the upcoming DVD box set.
Second billed is "The Closing of Winterland," a lengthy and well-regard Dead-only film that Rhino originally released to DVD in 2003. The double-DVD has about four hours of footage from the last night of Winterland on New Years Eve 1978.
Then there's "Dead Ahead," another existing DVD, with three hours of footage from Radio City Music Hall in October 1980. (The Shout! box retains the extra hour of bonus footage from the 2005 Monterey Video DVD.)
Making its DVD debut is "So Far," a highly regarded title last seen on VHS in 1991 (Arista). Jerry Garcia gets a co-directing credit on this experimental 1987 movie, which highlights the Dead drummers and a swarm of trippy computer graphics. "We were after the idea of electronic mind-altering and consciousness-altering," Garcia wrote of the hourlong film. "And on that level, I think it's pretty successful."
Other DVDs in the Shout! set include "Ticket to New Years" (Oakland, 1987), "Truckin' Up to Buffalo" (1989), "Downhill From Here" (Wisconsin, 1989) and the four "View From The Vault" titles.
A bonus disc features Justin Kreutzmann's video "Backstage Pass" (1992), an interview with archivist David Lemieux and a handful of bonus Dead performances.
Shout! also is selling "The Grateful Dead Bundle," which throws in the fall 2011 "The Grateful Dead Movie" on Blu-ray
for another $8.
A 40-page booklet includes liner notes by Deadhead journalist Blair Jackson, who wrote the book "Garcia: An American Life."
The project is billed as "in collaboration with Rhino," reconnecting the original Rhino people at Shout! with their old label, long owned by WEA.

More Grateful Dead content from Psychedelic Sight:
---
The Dead store
(Getting high on Amazon's supply)