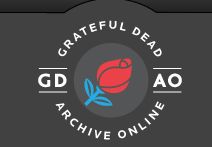 One might be forgiven for thinking the entire World Wide Web serves as the Grateful Dead's archive, but now there's an official destination for fans, educators, researchers and music geeks:
The University of California Santa Cruz has officially launched the Grateful Dead Archive Online. It's very much a work in progress, but well worth a look for even the most casual Deadhead.
UC Santa Cruz now hosts the brick-and-mortar library of the Grateful Dead, which was formed in the San Francisco Bay Area in 1965 and continued its, um, long strange trip until 1995. In many ways, of course, that history is still being made as surviving band members tour and record in various incarnations.
The Grateful Dead Archive and McHenry Library's "Dead Central" opened officially June 29, as well. The inaugural exhibit is "A Box of Rain: Archiving the Grateful Dead Phenomenon" (visit Dead Central).
Nicholas Meriwether, the UCSC Grateful Dead Archivist, called the online archive "a remarkable, innovative web site featuring a groundbreaking, socially-constructed collection built on fan-contributed content."
Fan participation comes into play with all things Grateful Dead, and the online archive is no exception. They're encouraged to submit images, videos and recordings.
Here are some key links to Grateful Dead Archive Online (GDAO) pages:
Deadhead tapes: Fans check in with 8,500 live recordings.
Posters (an "exhibit"): Artists include Rick Griffin, and Mouse & Kelley.
Audio: 158 recordings of band interviews and radio features.
Artists: Site searches for photographers and poster artists who specialized in the Dead.
Shows: A Google Map with pins to key Dead concert venues.
Milestones: An interactive (but skimpy) timeline.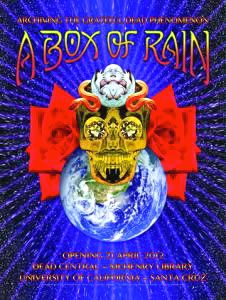 This, of course, could be a copyright nightmare. The site addresses the issue, promising a "diligent, good faith, and reasonable research and analysis" of each item's copyright status.
Previously, the archive project was represented online by the Dead Central blog, whose reports have been ported over to the GDAO.
In April 2008, band members Bob Weir and Mickey Hart announced that UCSC's McHenry Library would be home to the Dead's massive collection of audio, photos, poster art, instruments and print media.
Singer-guitarist Weir said the University of California Santa Cruz was "a seat of neo-Bohemian culture" that aligned perfectly with the band.
The Dead's archive debuted, in part, two years ago with an exhibition at the New-York Historical Society focusing on the band's history in that city. The Rock and Roll Hall of Fame currently hosts a major Dead exhibition — "Grateful Dead: The Long, Strange Trip" — put together with the participation of the UCSC archivists.
More Grateful Dead content from Psychedelic Sight:
---
Grateful Dead store
(Getting high on Amazon's supply)