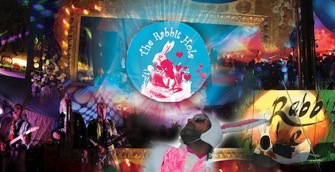 The spiritual descendant of the great 1960s rock festivals, Glastonbury rises once again this week. The shadows of psychedelia lurk around every corner of the English festival, perhaps in response to critics who said bookers were ignoring underground music.
Psychedelic-tinged acts at this year's Glasto include the Flaming Lips, Os Mutantes, Devendra Banhart, Curved Air and George Clinton with Parliament/Funkadelic.
Psychedelic trance, electronica and '60s-style pop come from the Egg, Orbital, Dead Weather, Holy Fuck, Wax Tailor, Kissmet, Gorillz, MGMT, Egyptian Hip Hop, Grizzly Bear, lcd soundsystem and at least a dozen more (see the impressive Glastonbury artists list). That brew should address criticisms that the festival has been light on "weird psychedelic music."
Sixties survivors playing the Glastonbury Festival of Contemporary Performing Arts include Stevie Wonder, Ray Davies and Dr. John. Prog/psychedelic acts returning after playing the first fest are Marsupilami, Quintessence and Space Ritual (Hawkwind vets).
Don't book that flight. This year's festival is sold out, but the BBC plans massive coverage, some of which will seep over into America. Dates are June 23-27.
For a "psychedelic smorgasbord," fest-goers can check out the on-site club the Rabbit Hole, which promises "a twisted mix of Alice In Wonderland  meets the Playboy mansion." It specializes in underground music and "magic potions." Dozens of bands are playing the club over the four days, including Elvis ("the real one").
The progressive poster outfit Firehouse also touches down in Glasto as part of its "Psychedelic Secession" tour (image for MGMT at right).
Promising young acts competing for a slot on the main stage include You Are the Family Machine and the Phantom Light.
It was 40 years ago that the festival came to life — the day after Jimi Hendrix's death. Fans paid a pound to see Marc Bolan and a handful of other artists, with the ticket price including free milk from the cows wandering about. Today, it's arguably the world's best rock festival.
The Isle of Wight festival, with a focus on mainstream rockers, runs June 11-13. Headliners are Sir Paul, the Strokes, Jay-Z, Blondie and Pink.