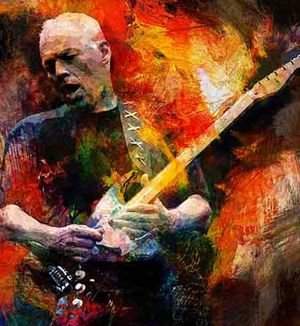 David Gilmour quickly sold out a trio of London concerts in support of his upcoming solo album, and quickly added two more.
The additional shows at the Royal Albert Hall are set for Oct. 2 and 3. The concerts of Sept. 23, 24 and 25 sold out in under an hour.
Those shows and other European dates (in "some of the world's most beautiful cities and venues") are in support of Gilmour's fourth solo album.
Gilmour told Rolling Stone it would be an "old man's tour" and not a global affair. No U.S. dates were announced.
No title or release date was unveiled for the Gilmour album.
The guitarist's latest and probably final work with Pink Floyd, "The Endless River," came out in late 2014. That double album and Gilmour's third solo effort, "On an Island" (2006), both focused on psychedelic instrumental work.
Gilmour's last official tour came almost a decade ago, in support of "On an Island."
Gilmour's announcement of the additional dates reflected concerns about scalping:
"One unfortunate side effect of the shows' popularity is that tickets are starting to appear on unofficial sites," his web site said. It added that the original ticket buyers would need to show ID for entrance. The idea is "to restrict ticket sales to genuine fans and not those seeking to profit from resale."
The Royal Albert Hall shows conclude the tour.
View other David Gilmour tour cities and venues (Europe).
More Pink Floyd content: