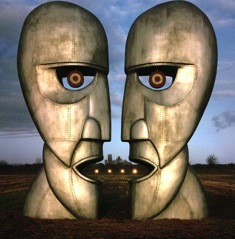 In what's being called a temporary reunion, ex-Pink Floyd leaders David Gilmour and Roger Waters agreed to swap appearances at each other's shows.
The sudden detente led to speculation that Pink Floyd might reunite at some point, however unlikely that might be.
Waters' turn to perform came July 10, when he joined Gilmour at a charity event in Oxford, England.
Backed by a band, the duo sang "Wish You Were Here," "Comfortably Numb" and "Another Brick in the Wall (Part Two)" for an audience of about 200.
The oft-battling bandmates also broke out "To Know Him Is to Love Him," the Phil Spector-penned song that they reportedly played — with some irony — at Pink Floyd soundchecks.
"I think it was David himself, came up with this 'Wouldn't it be funny', idea," Rogers wrote on his Facebook page. "What if he were to sing the old Teddy Bears song 'To Know Him Is To Love Him' with me, what with us having been so famously at each other's throats for years and years."
Rogers says he was terrified of singing the song in two-part harmony. Gilmour apparently talked him into it by vowing to do a walk-on at one of Rogers' upcoming "The Wall" concerts.
"Well! You could have knocked me down with a feather," Rogers continued. "How fucking cool! I was blown away. How could I refuse such an offer. I couldn't, there was no way. Generosity trumped fear."
Rogers admitted their performance of song was "fucking great" after all — adding cryptically: "End of story. Or possibly beginning."
Any hopes for a Pink Floyd reunion would be muted by the loss of keyboardist Richard Wright, who died in January 2009. Previously, the psychedelic pioneers re-formed for charity, at 2005's Live 8.
The July benefit, at a country estate, raised something like 350,000 pounds for the Hoping Foundation, which supports Palestinian children and youth in refugee camps.
More Pink Floyd content:
Pink Floyd walls off its concept albums
"Atom Heart Mother" review