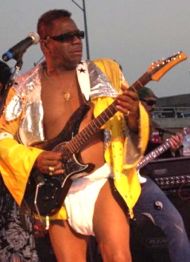 Garry "Diaperman" Shider, the longtime musical director for George Clinton's various psychedelic funk bands, died June 16. He was 56.
The guitarist and singer joined Parliament and Funkadelic during their peak creative years, working on "Maggot Brain," "One Nation Under a Groove" and "America Eats Its Young." Shider continued with Clinton and his P-Funk All-Stars through an April tour, which he briefly joined despite just being diagnosed with brain and lung cancer.
He co-wrote some of Clinton's best-known songs, notably "Atomic Dog" and "One Nation Under a Groove."
Shider found funk fame for wearing the white loincloth that became his trademark, hence the Diaperman handle. The P-Funk world also knew him as "Starchild."
"Thank you, Garry, for all you have done," Clinton wrote on his web site. "Forever Funkin' On!" The site's long list of Parliament/Funkadelic musicians has Shider's name second, right below Clinton's.
Shider shared the middle name "Marshall" with Jimi Hendrix, a deep influence on his guitar playing (video below).
In the '70s, Shider played in Parliament/Funkadelic with soon-to-be-legend Eddie Hazel, whose psychedelic epic "Maggot Brain" served as a showcase for the guitarists. ("Maggot Brain" is included on this web site's list of the "Greatest Psychedelic Songs.")
Shider was inducted into the Rock and Roll Hall of Fame in 1997, along with other members of Parliament/Funkadelic.
Other gigs included Bootsy Collins' Rubber Band, the Black Crowes and outside work with Hazel. Shider's songs also ended up on various Hollywood soundtracks, including "Bad Boys." Clinton produced the recordings of the guitarist's first band, United Soul.
Shider died in Upper Marlboro, Md. Donations to cover the family's resulting medical bills can be made on this Sweet Relief-affiliated web site.