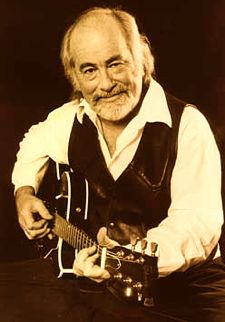 The Grateful Dead's primary songwriting team of Jerry Garcia and Robert Hunter are being inducted into the Songwriters Hall of Fame.
Hunter, a lyricist, had been named a member of the Grateful Dead despite not performing with the band, a testament to his importance to the psychedelic music pioneers.
Garcia, who died in 1995, wrote the music for the duo's many songs.
The Songwriters Hall pointed to "Casey Jones," "China Cat Sunflower," "St. Stephen" and "Truckin'." Other tracks highlighted were "Dark Star," "Friend of the Devil" and "Touch of Grey."
Hunter (pictured, top) also worked with Bob Dylan, writing most of the album "Together Through Life." He and Dylan co-wrote Dylan's 2012 hit "Duquesne Whistle." Hunter performs and records as a solo act as well.
Hunter collaborated over the years with the Dead's Bob Weir, Mickey Hart and Phil Lesh, as well as Bruce Hornsby, Jim Lauderdale and David Nelson.
Others entering the Songwriters Hall in 2015 include Willie Dixon, Bobby Braddock, Toby Keith, Cyndi Lauper and Linda Perry. Additional "special award honorees" will be announced soon.
Willie Dixon wrote many songs covered by underground rock bands in the 1960s and beyond, including "Little Red Rooster," "Spoonful" and "I Just Want to Make Love to You." The Dead performed "Little Red Rooster" hundreds of times, and covered at least another half dozen of the bluesman's classics over the years. Cream made a concert showcase out of "Spoonful."
The Dead's Bob Weir and Dixon co-wrote the song "Eternity," which appeared on the Dead's "So Many Roads" album. Dixon died in 1992.
The songwriters induction event is slated for Thursday, June 18, at the Marriott Marquis in New York City. Tickets go for $1,250 a pop.
In 2014, the songwriters group honored Donovan, Ray Davies of the Kinks and Graham Gouldman (the Yardbirds, the Hollies).
Songwriters already in the hall with links to the psychedelic-music era include John Lennon, Paul McCartney, Mick Jagger, Keith Richards, Eric Clapton, David Crosby, Brian Wilson, Felix Cavaliere, Van Morrison, Bob Dylan and Joni Mitchell.
More Grateful Dead content from Psychedelic Sight: