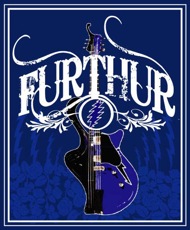 Reason to be grateful: Sirius XM is doing a live broadcast of Furthur's tour stop in tiny Jim Thorpe, Pa.
Reason to be bummed: The July 5 show at the Shelburne Museum in Vermont was abruptly canceled because of fears of damage to the facility. One angry fan called it "Grateful Dead paranoia at its best."
The Tuesday, June 29, concert on satellite radio comes from Penn's Peak, a 1,600-seat club, making it the most intimate performance of Furthur's current tour. (The concert, of course, is rock solid sold out.) The live broadcast begins at 7 p.m. ET on the 3-year-old Dead Channel.
Satellite radio fans will hear the Furthur concert on XM channel 57 and Sirius 32. The co-host of the Grateful Dead Channel's "Tales from the Golden Road" talk show, Gary Lambert, will take calls from Deadheads during the break.
Bob Weir and Phil Lesh's project is one of the many descendants of the Grateful Dead. It debuted about a year ago and has been on the road most of 2010.
Of the canceled Vermont show, the band said it was "regrettably unable to find a suitable alternate venue in Vermont," and switched that date to the Sherman Theatre in Stroudsburg, Pa. Tickets from the Vermont show will be refunded, but not honored at the Sherman gig, which sold out in eight minutes.
The Vermont promoter complained on the Furthur web site: "For these concerns to materialize in the 11th hour and our solutions to be deemed "inadequate' is short-sighted." The show would have been part of the Ben & Jerry's Concerts on the Green series.
The town's fears of Furthur, apparently, were of problems with Dead heads showing up on the museum grounds without tickets.
"This is Grateful Dead paranoia at its best," one local fan told the Burlington Free Press. "This show was no threat to the museum or anyone else."
Paranoia about concerns certainly runs deep in the Northeast this month after a near riot in Manhattan at a free show by rapper Drake. An expected crowd of 10,000 fans turned into 25,000 and the show was canceled without the performer taking the stage.
The (latest and second) lineup of Furthur consists of Weir (guitar, vocals), Lesh (bass), Jeff Chimenti (keyboards), John Kadlecik (guitar), Joe Russo (drums), and Sunshine Becker and Jeff Pherson (vocals). The musicians have ties to the family of Grateful Dead-related acts such as Dark Star Orchestra and RatDog.
The ever-changing set list looks familiar to Deadheads, of course: "Touch of Grey," "Looks Like Rain," "Eyes of the World," "Here Comes Sunshine," "Brokedown Palace," "Ship of Fools," "Truckin'" and "Turn on Your Lovelight."
Furthur is named for the 1939 school bus owned by Ken Kesey and used in the '60s as psychedelic transport for the trippy writer and his extended family, the Merry Pranksters.
More Grateful Dead content: