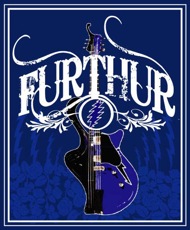 Bob Weir and Phil Lesh's Furthur project is getting on down the road on its first U.S. tour.
The new band is warming up with an eight-night stand in Mill Valley, California. The shows are called "Live Rehearsal Sessions" and, no, you can't get a ticket. The band even asks that the ticketless stay away from the town and the two venues.
The Furthur winter tour officially begins Feb. 5 in Miami and is scheduled to end March 8 in Portland, Oregon.
The band consists of Weir (guitar, vocals), Lesh (bass), Jeff Chimenti (keyboards), John Kadlecik (guitar), Jay Lane (percussion), and Joe Russo (drums). The musicians have ties to the family of Grateful Dead-related acts such as Dark Star Orchestra and RatDog.
Furthur debuted in September with a three-night stand in Oakland, Calif. They played New Year's shows in San Francisco, at the Bill Graham Civic Auditorium.
The set list looks familiar to Deadheads, of course. Songs so far include "Touch of Grey," "Eyes of the World," "Here Comes Sunshine," "Brokedown Palace," "Ship of Fools," "Truckin'" and "Turn on Your Lovelight."
Here's a swatch of the Furthur New Year's Eve show review by Garrin Benfield on JamBase:
This is a living, breathing band capable of rocking, spacing, and generating some serious psychedelic boogie. … The first half of the first set on New Year's Eve felt like an old school Dead show, when songs were not all necessarily connected by long segues. … (The next set) was, with just a few exceptions, a gorgeously drippy psychedelic excursion through "Cassidy," "The Wheel," "Dark Star" and perhaps most notably, Pink Floyd's "Time" from Dark Side of the Moon."
Mill Valley was selected, apparently, so the band could stay home, rehearse during the day, play the shows at night and sleep in their own beds. The small town, however, is having issues with the inevitable Deadhead hangers-on. The Marin Independent Journal reports: "Some see this as an economic windfall, bringing glamour and excitement to Mill Valley. Others complain that unsavory Deadheads without tickets have been trashing their downtown." Weir and Lesh had asked fans without tickets not to show up, saying they wanted to continue to be able to play similar shows in small venues.
Furthur is named for the 1939 school bus owned by Ken Kesey and used in the '60s as psychedelic transport for the trippy writer and his extended family, the Merry Pranksters. At one point, the Beat era heavyweight Neal Cassady was the bus driver. The story was well told in "The Electric Kool-Aid Acid Test."
RatDog and the Dark Star Orchestra also have booked shows for the first half of the year.