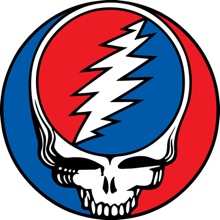 Saying "the music of The Grateful Dead is meant to be shared and enjoyed by everyone," the twinkly-eyed elves at dead.net offer up 30 live tracks for free.
The good vibes last only through Wednesday (Dec. 8), so go get the free Grateful Dead downloads now if you want them. No catches, no bullshit, nothing to buy.
The live tracks were unveiled one-by-one in November as part of the "30 Days of the Dead" promo, but many users had issues downloading the tunes.
"We realize that it was sometimes a little tougher than it should have been for you to download the music (especially that first week — sorry!), so we thought it only right that we give everyone a second chance to get every minute of the music," the download page explains. "It's the kind thing to do."
Copies of "Dark Star" (1969), "Cream Puff War" and "Alligator" (1967) downloaded without incident or delay, and the audio (320Kbps) was of relatively high quality, as usual with the Dead.
They're mostly unreleased soundboard recordings, the Dead folk say. Archivist/Dead insider Dave Lemieux selected the songs.
More Grateful Dead content: