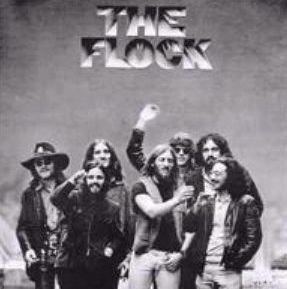 The Flock would go on to record other ace songs, but what is arguably the band's finest moment comes on side 1, track 1 of album No. 1 — the instrumental duet "Introduction."
A collision of psychedelic rock and classical music, the number features the band's most dramatic player, the violinist Jerry Goodman. At five minutes long, it's an intricate and ultimately aggressive piece of music held together by the flowing guitar work of bandleader Fred Glickstein.
"Introduction" goes from a whisper to a scream, with passages both conventional and savage. The hard rock comes into play only at the end, as the seven-member Flock emerges only to play one crushing final chord.
Like their hometown contemporaries Chicago Transit Authority, the Flock relied heavily on electric guitar and horns. But the sound took a wicked quantum leap thanks to Goodman, a conservatory-trained violinist who had been the band's guitar tech. (Perhaps the apt comparison here is with Al Kooper's first version of Blood, Sweat and Tears, another ambitious brass band fond of psychedelic-influenced experimentation.)
What made the Flock interesting — radical dynamics, flirtations with audio anarchy, oddball lyrics and high-pitched vocals — also seemed to doom any hopes of rock stardom. Theirs was head music, influenced as much by "Bitches Brew" as "Revolver." (CTA, meanwhile, became the hugely successful Chicago after ditching any hippie influences.)
"The Flock" (1969) released by Columbia, contains only six songs, thanks to the inclusion of a 15-minute blues workout.
Bluesmaster John Mayall wrote the album liner notes after catching the band at Aaron Russo's Kinetic Playground in Chicago (think Fillmore Midwest).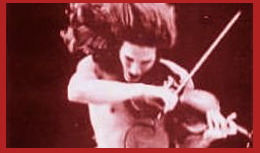 "I got close to going berserk over their prodigious and varied musical talent," Mayall said. "(It's) an exciting new direction in contemporary music, a subtle fusion of sounds drawn from the bedrock of blues, jazz, gospel, rock, country and many other sources." (Mayall later used a violinist in his jazz-rock fusion band.)
Back to the album. "Introduction" runs directly into "Clown," another of the band's best songs sung by Glickstein.
At almost 8 minutes, "Clown" plays like a Chicago Transit Authority-style rocker until just past the 2-minute mark, when Goodman cranks through a violin solo, embossed by Jerry Smith's insistent bass work. After that, we're in for an extended some psychedelic/prog variations with a wisp of raga. The band sounds lost at some point, like they're tuning up on acid. A sax solo helicopters in from afar. With a minute to spare, the band returns to the safety of rock. The label didn't hear a single.
Distant ethereal vocals announce the arrival of "I Am the Tall Tree." Pastoral violin and perhaps flute.
The lyrics paint curious images:
Brown sugar lips through the naked eye
Blimp floating high on an aqua sky
Ride the slide narrow to wide
As deep as creation's infinity
Indeed. There's still time for one of those Flock 180s, as singers cry in alarm, "The rushes are coming, the rushes are coming." Zappa meets Gilbert & Sullivan.
The next two numbers feature fine vocals and guitar work from Fred Glickstein. After some startling scratching by Goodman, we're into fuzz guitar and a rousing cover of the Kinks' "Tired of Waiting on You."
"Store Bought Store Thought" — a fan favorite — charges in as another straight-up rock song, albeit with twinkly King Crimson-like interlude. The lyrics go sci-fi:
Robot, robot, arms and legs
Teeth, bones, hair, it's all there
Robot, robot, arms and legs
Battery's dead, head's dead.
(Mechanical man, mechanical man!)
"Truth" seems a typical '60s white boy blues, until we hear the violin take the lead in place of electric guitar. Terrific for a while. Lengthy blues jams were common enough in those days; this one provides one of the band's rare nods to hipster conventions.
The debut album proved to be the Flock's finest hour, by far. Followup "Dinosaur Swamps" (1970) had its moments, but the band collapsed in its wake.
"The Flock" appears to be out of print, after a CD release in 1996. "The Flock" album was combined with "Dinosaur Swamps" on a bargain CD. There exists a best of the Flock album with decent sound.
Jerry Goodman moved on to John McLaughlin's fiery Mahavishnu Orchestra and toured with the rock-jazz fusionists Dixie Dreggs, both all-instrumental bands. He released a trio of solo albums in the 1980s and continued to work into the new century.
Over the years, Glickstein gathered the Flock in a couple of forms, touring and squeezing out one lightly regarded studio album in 1975. Note: The Flock discussed in this review is technically the second edition of the band, the first releasing some pop singles from 1966-68.
Here's an outstanding, high-quality video of Goodman and Glickstein playing "Introduction":