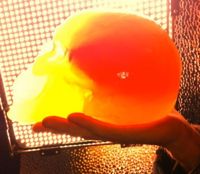 The Flaming Lips want you to eat their brains. The band's continuing explorations of odd ways to distribute psychedelic music in the new century have led to songs hidden inside gummy candy skulls.
Four new Lips tunes will be implanted in a USB drive (memory stick) deep within the sticky brain. Listeners are encouraged to eat the candy skull, and then the brains (more than 7 pounds of gelatin, enjoy.) Extract the USB drive, find a way to clean it (good luck) and then insert into computer.
The band's last release, "Two Blobs Fucking," came out as a streaming single, with 12 separate mono parts designed to be played simultaneously on iPhones. The result: "lo-fi symphonic joy." Lips fans have spent the past month and a half coming up with unique ways to play that one.
"I'd just like to release music all the time and just put it out in all kinds of weird formats and not just collect it until we're ready to put out [an album] every two years or so," Coyne told billboard.com. The songs also will come out on iTunes.
The Flaming Lips also plan to release "Heady Nuggs: The First 5 Warner Bros. Records 1992-2002" on Record Store Day, April 16, 2011. The five catalog recordings are "Hit to Death In the Future Head" (1992), "Transmissions From the Satellite Heart" (1993), "Clouds Taste Metallic" (1995) and "The Soft Bulletin" (1990) and "Yoshimi Battles the Pink Robots" (2002).
Speaking of the psychedelic "Yoshimi Battles the Pink Robots," it could be the next rock album to try its luck on Broadway. The long-delayed project appears to be in pre-production.
The Flaming Lips are working with Southern California stage director Des McAnuff ("Jersey Boys"). He's the guy who work-shopped the Who's "Tommy" at the La Jolla Playhouse and brought the production to Broadway for a long successful run.
The "Yoshimi Battles the Pink Robots" musical "really has become a perfect combination of my fantastical robot-world vision and (McAnuff's) little, internal, humanistic version of what that music is," Coyne told Billboard the other day.
The plot revolves around a dying girl ("Her name is Yoshimi, she's a black-belt in karate") who enters another dimension with a boyfriend and takes on her disease, which lurks there in the form of pink robots. Lips frontman Wayne Coyne told Entertainment Weekly (which apparently broke the story) in 2007 that the madness should play out along the lines of Terry Gilliam's bizarre "Brazil."
The Lips have continued to wave their freak flag over the years. They released a remake of Pink Floyd's "The Dark Side of the Moon" in April 2010, billed as the Flaming Lips & Stardeath and White Dwarfs With Henry Rollins and Peaches.