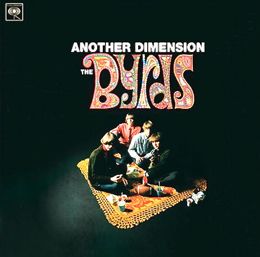 A first-time listener to the Byrds' "Fifth Dimension" probably won't be all that impressed.
On what is considered a seminal psychedelic album, there are three, maybe four psychedelic songs.
When they recorded their third album, the "American Beatles" had just lost their main songwriter, Gene Clark.
The Byrds also were weaning themselves from the Bob Dylan covers that brought them fame and a pair of No. 1 hits. Consequently, a good bit of "Fifth Dimension" was surrendered to filler.
Yet in July 1966, "Fifth Dimension" stood alone.
The Beatles had not yet released "Revolver." The Jefferson Airplane's "Surrealistic Pillow" was seven months off. Pink Floyd, the Grateful Dead, and Country Joe and the Fish had yet to record their first albums.
Psychedelic music was mostly a rumor. Until "Fifth Dimension."
The rumblings began three months earlier, with release of "Eight Miles High." That irresistibly kinetic single, about the Byrds' 1965 trip to London, quickly was labeled a drug song. Band members protested when some radio stations banned it, saying the title reference was to their jet ride across the Atlantic. Few fans or critics bought the explanation.
"Eight Miles High" cracked the Top 20 despite the limited airplay. As startling as the music was — the critic David Fricke finds in it a "cliffhanging quality of unresolved medlodic drama" — some of the song's elements were familiar to the vast AM audience: the throbbing garage-band bass line; the Byrds' folk-rock harmonies; David Crosby's driving rhythm guitar.
But the careful listener probably had a few questions:
Did they forget the chorus? Why are the instrumental passages so chaotic? Is that a sitar or a guitar? Where is this "rain-gray town, known for its sound" with "small faces unbound"? Why is the ending such a meltdown?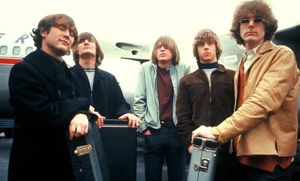 "Eight Miles High" seemed to come out of nowhere — as did so much great 1960s music — but in retrospect there's a clear lineage:
The cluttered, borderline dissonant instrumental sections were unprecedented in rock & roll, but not in jazz, where artists such as John Coltrane and Ornette Coleman shunned traditional harmonic structure in favor of free-form heroics.
The Byrds made much of "Eight Miles High's" primary inspiration, the song "India" from Coltrane's "Impressions" album. Group guitarist Jim (Roger) McGuinn, gobsmacked by Coltrane's "forceful, rebellious attitude," imitated the saxophone visionary's solos via a distorted 12-string Rickenbacker. Coltrane's playing "felt like a white-hot poker was searing through my chest," McGuinn said years later.
At the same time, McGuinn incorporated sitar-like riffs into his playing, inspired by the music of India's Ravi Shankar and no doubt encouraged by the success of the Beatles' recent "Norwegian Wood." McGuinn's experimentation with this Coltrane-Shankar fusion is heard on all of "Fifth Dimension's" psychedelic tracks. The music press scratched their heads and dubbed it "raga rock."
The follow-up single, the swirling "5D (Fifth Dimension)," also suffered radio bans. Word on the street was that "5D" described an LSD trip, but composer McGuinn had headier matters in mind:
What I'm talking about is the whole universe, the fifth dimension, which is height, width, depth, time and something else. But there definitely are more dimensions than five. It's infinite. The fifth dimension is the threshold of scientific knowledge …
Some of that scientific knowledge flowed from Albert Einstein, who described a universe based on a space-time continuum. "All my two-dimensional boundaries were gone," McGuinn wrote in "5D." "I had lost to them badly."
"5D" certainly is one of the most beautiful and intelligent songs written about the cosmos, although one fears for the fate of the free-floating narrator with all those black holes lurking about.
"5D" opens the album, while "Eight Miles High" kicks off side 2. Rightly so. Nothing else on the album comes close to these hugely influential recordings. The Byrds, who could have grown rich covering Dylan, flirted with career suicide by bringing these songs to market in the early days of 1966. They are the products of artistic bravery.
The agreeably chaotic guitar work of "Eight Miles High" resurfaces on "I See You," otherwise a ringing rocker that brings to mind midperiod Beatles. McGuinn and Crosby sing in unison, creating a single narrative voice, a technique perfected by their pals John Lennon and McCartney. "I See You" remains one of the best early Byrds songs.
"What's Happening?!?!" written by Crosby, also benefits from McGuinn's guitar experimentation. The track finds Crosby developing the quizzical/cynical singer-songwriter style he used to great success in Crosby, Stills & Nash. Unfortunately, "What's Happening?!?!" feels unfinished, with vocal flubs and what appears to be a missing guitar break.
Completing the psychedelic quartet is the album's oddball track, "2-4-2 Fox Trot (The Lear Jet Song)," which incorporates the whine of jet engines and in-flight radio chatter. This repetitive bit of business was ahead of its time in use of non-musical sonic elements, but remains no less annoying for it. (The "2-4-2 Fox Trot" reference is to the Learjet used by its inventor, whose son was a friend of the band.)
The rest of "Fifth Dimension" is in the mainstream, serving up a trio of folk songs and McGuinn's grin-inducing "Mr. Spaceman." On the down side: a crappy "Hey Joe" cover and a pointless funky jam.
The Byrds recorded another psychedelically tinged number during the "Fifth Dimension" sessions
. "Why," the B-side to "Eight Miles High," became an unofficial part of the album during the CD era. The psychedelic guitar propels the song, once again, especially near the end.
Unfortunately, "Why" cuts off just as the players seem about to jam their way into further psychedelic music explorations. McGuinn would return to that space a few years later, with 20-minute live versions of "Eight Miles High."
"Fifth Dimension's" psychedelic rep was enhanced by its gorgeous bible-black cover shot with the band spotlighted atop an oriental rug. The trippy mosaic Byrds logo makes its first appearance, anticipating the hippie aesthetic that was about to turn the art world upside down.