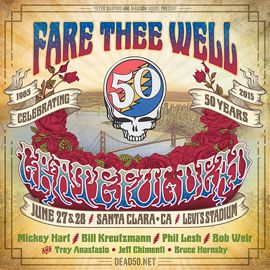 Here are the set lists for the Grateful Dead's final concerts, dubbed "Fare Thee Well."
The concerts were on the band's home turf in Santa Clara, Calif., and in Chicago. Almost no songs were repeated, the exceptions being "Cumberland Blues," Bob Weir's "Truckin'" and the instrumental workout "Drums / Space."
The Grateful Dead veterans were Bob Weir, Phil Lesh, Mickey Hart and Bill Kreutzmann. They were joined by Trey Anastasio (guitar), Jeff Chimenti (keyboards), and Bruce Hornsby (piano).
The Dead called the shows "our final stand," vowing there will be no further concerts. "This is it."
CDs and Blu-rays/DVDs from the concerts are due for release Nov. 20.
Concerts were divided into two sections, with the sets divided by an hourlong break. (Years refer to Dead originals' first appearances on an album.)
Levi's Stadium
Santa Clara, Calif.
June 27, 2015
Set 1
Truckin' (1970)
Uncle John's Band (1970)
Alligator (1968)
Cumberland Blues (1970)
Born Cross-Eyed (1968)
Cream Puff War (1967)
Viola Lee Blues (1967)
Set 2
Cryptical Envelopment (1968)
Dark Star (1968)
St. Stephen (1969)
The Eleven (1969)
Turn On Your Love Light, cover
Drums > What's Become of the Baby? > Space
The Other One (1968)
Morning Dew, cover
Casey Jones, encore (1970)
Levi's Stadium
Santa Clara, Calif.
June 28, 2015
Set 1
Feel Like a Stranger (1980)
New Minglewood Blues (1967)
Brown-Eyed Women (1972)
Loose Lucy (1974)
Loser (1972)
Row Jimmy (1973)
Alabama Getaway (1980)
Black Peter (1970)
Hell in a Bucket (1987)
Set 2
Mississippi Half-Step Uptown Toodleloo (1973)
Wharf Rat (1971)
Eyes of the World (1973)
He's Gone (1972)
Drums > Space
I Need a Miracle (1978)
Death Don't Have No Mercy, cover
Sugar Magnolia (1970)
Brokedown Palace, encore (1970)
Soldier Field
Chicago
July 3, 2015
Set 1
Box of Rain (1970)
Jack Straw (1972)
Bertha (1971)
Passenger (1977)
The Wheel (1972)
Crazy Fingers (1975)
The Music Never Stopped (1975)
Set 2
Mason's Children (1969)
Scarlet Begonias (1974)
Fire on the Mountain (1978)
Drums > Space
New Potato Caboose (1968)
Playing in the Band (1971)
Let it Grow (Weather Report Suite) (1973)
Help on the Way (1975)
Slipknot! (1975)
Franklin's Tower (1975)
Ripple, encore (1970)
Soldier Field
Chicago
July 4, 2015
Set 1
Shakedown Street (1978)
Liberty (1988)
Standing on the Moon (1988)
Me & My Uncle, cover
Tennessee Jed (1972)
Cumberland Blues (1970)
Little Red Rooster, cover
Friend of the Devil (1970)
Deal (1972)
Set 2
Bird Song (1972)
The Golden Road (To Unlimited Devotion) (1967)
Lost Sailor (1980)
Saint of Circumstance (1980)
West L.A Fadeaway (1987)
Foolish Heart (1989)
Drums > Space
Stella Blue (1973)
One More Saturday Night (1972)
U.S. Blues (1974)
Soldier Field
Chicago
July 5, 2015
Set 1
China Cat Sunflower (1969)
I Know You Rider, cover
Estimated Prophet (1977)
Built to Last (1989)
Samson and Delilah, cover
Mountains of the Moon (1969)
Throwing Stones (1987)
Set 2
Truckin' (1970)
Cassidy (1972)
Althea (1980)
Terrapin Station (1977)
Drums > Space
Unbroken Chain (1974)
Days Between (1993)
Not Fade Away, cover
Touch of Grey, encore (1987)
Attics of My Life, encore (1970)