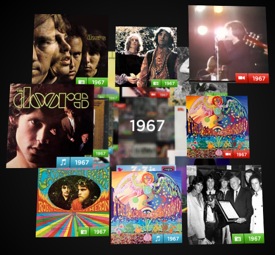 Up for some time travel? Elektra Records surveys its 60-year history via an outstanding multimedia journey that's available online.
Curated by label founder Jac Holzman, Elektra60.com is built around a graphics-heavy interactive timeline. It launches immediately upon visiting the page, transporting visitors from 2010 to 1950 in most trippy fashion, as if they fell into a "2001" black hole. Images flash by, roots music plays. Worth the visit alone.
Holzman signees the Doors, Love and Incredible String Band fly the psychedelic music banner. Other heavy acts include the Paul Butterfield Blues Band, the MC5 and the Stooges.
"It was modeled on a world's fair, where a visitor can walk down the center promenade and take in the sights and sounds, and step into multiple pavilions for more enriching experiences," Jac Holzman says. Once inside the virtual tent, users can listen to a few songs, view the discography, see a video or two.
Users scroll across a bar to visit individual years, which coolly and colorfully morph into each other.
In 2007, the label released an audio box set that celebrated its glory years: "Forever Changing: The Golden Age of Elektra 1963-1973."
For example, the radio series "The Doors: From the Inside" originates on the main site, but fits in perfectly with the historical content on Elektra60.com. This time, "We decided to celebrate Elektra on the Web, the connective community of our age," said Holzman, who sold the label to Warner in the 1970s and is now an adviser to Warner Music Group chief Edgar Bronfman Jr.
The multimedia Elektra60.com actually is an adjunct to the label's primary web site, with content flowing between the two.
The Doors' radio special, originally aired in 1988, takes a chronological look at Elektra's most controversial and profitable act. Like the 60.com project, it breaks down the band's history into six years: 1966-1971.
Another key piece of content looks at the Elektra label chiefs and the artists they signed. Holzman, of course, had the hottest hand, with Love, the Doors, Butterfield, the Stooges, Judy Collins and Queen, among others. David Geffen's Asylum acts have been added to the mix, bringing in Joni Mitchell, Tom Waits, Dylan and Jackson Browne.
Elektra60.com remains a work in progress — there are some noticeable bugs and gaps (go to an artist's bio and the post initially is headlined "About me" (as in Phil Ochs, About Me, ouch). The first page doesn't have a mute or skip, so you get the full treatment every time you visit, possibly annoying.
"Elektra60.com is a living, breathing site that will continue to evolve over the upcoming weeks and months, as fresh content is added and new paths revealed," Holzman says.
The digital agency Rokkan produced the interactive timeline.
Meanwhile, Britain's NME marks the 40th anniversary of Jimi Hendrix's passing with a special issue. Parts of the tribute to the greatest psychedelic guitar player of all time are available online, such as "20 Things You Never Knew About Jimi Hendrix."