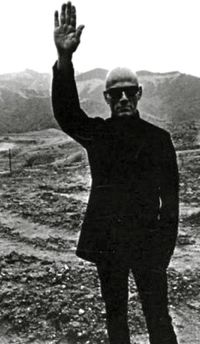 Drummer Ed Cassidy, who both anchored and mentored the adventurous rock band Spirit, has died at age 89.
Cassidy and his stepson, Randy California, kept Spirit alive long past its heyday of the late-1960s and early 1970s, but the classic lineup of the band was by far its most successful.
Cassidy was in his mid-40s when he teamed up with California and the other musicians of Spirit. Tall and bald-headed, given to wearing black, he helped give the band a visual identity. The young men in the band called him "Mr. Skin," a nickname later celebrated in song.
The drummer played with top jazz artists such as Thelonious Monk, Cannonball Adderley, Roland Kirk, Dexter Gordon and Chet Baker. Spirit would become one of the first rock acts to incorporate jazz into its music.
Cassidy ventured into rock in 1964, joining L.A.'s Rising Sons band with Ry Cooder and Taj Mahal.
In 1967, Cassidy teamed up with his stepson and the other original members of Spirit: Jay Ferguson, Mark Andes and John Locke. They lived communally in L.A.'s Topanga Canyon when the debut album was released.
"What I wanted was a band with no categories that could attempt anything, any style, and make it their own," Cassidy told the Los Angeles Times.
That band produced four studio albums and several high-profile singles, including "Mechanical World," "I Got a Line on You" and "Nature's Way." The classic lineup lasted through 1970's "Twelve Dreams of Dr. Sardonicus," the band's best-known album.
Cassidy and California reunited in 1974, recording and touring on a regular basis as Spirit until California's accidental death in 1997.
Cassidy died of cancer in San Jose, Calif., on Dec. 6. He was born in Illinois in 1923.
More psychedelic music obituaries from December 2012: