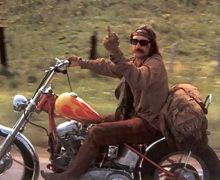 Dennis Hopper does the talking as "Easy Rider" comes to high-definition via Sony.
The "Easy Rider" Blu-ray
features a feature-length commentary by the director-actor; a featurette about Hopper and partner Peter Fonda (Capt. America); as well as some BD-Live enabled content. There's also a 32-page graphic booklet.
The previous DVD version of "Easy Rider" came out five years ago, in a 35th Anniversary Deluxe set. That version came with the DVD and a bonus soundtrack CD. The Blu-ray, appropriately, is tagged as a 40th-year edition.
"Easy Rider" is a movie that's very much of its time — the youth of 1969 were just delighted to see long hair, drugs and nudity presented as good things in a dramatic motion picture — but no matter how the film plays today, the music hasn't aged a bit. And this time the soundtrack comes in lossless audio.
We're talking "If Six Was Nine" from Hendrix, "The Pusher" and "Born to Be Wild" from Steppenwolf, "The Weight" (the Band's version) and a couple of Roger McGuinn numbers, including the dramatic finale, "The Ballad of Easy Rider."
The Electric Prunes' "Kyrie Ellison" adds somber weirdness to the New Orleans acid-trip scenes. Then there are the novelty songs "Don't Bogart That Joint" and "If You Want to Be a Bird," appealing to the Merry Pranksters among us.
Several of the songs remain in heavy rotation on FM radio, but there's something special about flashing back to their framing in the biker movie.
Don't blow it, man: check out "Easy Rider" in high-definition and let us know what you think.