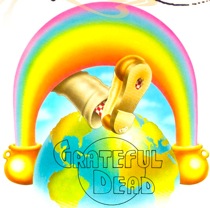 That big gooey box set of the Grateful Dead's European tour of 1972 is gone and nothing's going to bring it back. Sort of.
The limited-edition box set — stuffed with "memorabilia and ephemera" — sold out in four days, but Dead.net now offers a "music only" collection for the same price: $450. The sets should ship in the fall.
Dead.net still promises that no more than 7,200 copies of the original box set will be created. The first lucky 3,000 Deadheads who preordered will get box sets personalized in some way. A hardcover coffee table book goes along with the memorabilia and more than 60 discs. (Update: As of 2013, those sets were going for a grand on Amazon.)
"Although perhaps not as cool as the boxed set, the bottom line is that the most important aspect of "Europe '72: The Complete Recordings" is going to be made available to all, the music," Dead.net said over the weekend. The site, exclusive seller of the Dead/Rhino box set, notes that the decision to sell the music separately came after "lengthy discussions."
The music-only collection will house each concert in separate packaging.
Of course there's no shortage of Grateful Dead albums on the planet, but this one hits the motherlode:
More than seventy hours of music spread over the 60-some discs. Every show, "every note" of the historic tour, mastered from the original 16-track tapes.
No doubt you recall that we've had a "Europe '72" set for decades. The one with the kid and the ice cream cone attached to his forehead. That three-LP album captured the Dead at their peak, as anyone who saw the group in the early years of that decade can attest.
Ron "Pigpen" McKernan left the band shortly thereafter; Keith and Donna Godchaux joined shortly before. The Grateful Dead's previous studio albums were "Workingman's Dead" and "American Beauty," both classics and signposts to the band's future. And the Dead were … straight?
Bob Weir says a lack of dope helped the musical focus. "For that tour, everybody was pretty damn clear," he told Rolling Stone. "Unlike in America, you couldn't get pot over there. They had hashish. and nobody liked it much. … All we had was the music." That didn't stop the band from hourlong workouts on "Dark Star."
While the old "Europe 72" brought the band many of its fans, it wasn't the real deal. The album had heavy overdubs on the vocals. This time out, it's a pure shot from the sound board. Project producer David Lemieux calls the recordings "pristine."
The news came about a week after plans for a Grateful Dead online video game were unveiled.
In other Dead recording news, "Workingman's Dead" makes a return Feb. 1 via a Japanese import with extra tracks.
---
Grateful Dead store
(Getting high on Amazon's supply)