The unreleased Grateful Dead movie "Sunshine Daydream" is the featured attraction for this summer's "Meet Up at the Movies."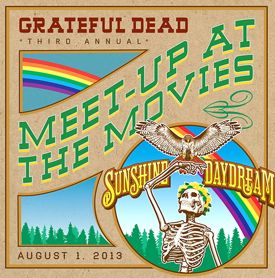 The 16mm concert film — restored in high-definition — was shot in Venta, Oregon, in 1972, several months after the Dead wrapped its Europe '72 tour and a few weeks before the marathon show in Boulder, Colo.
The rural concert shown in "Sunshine Daydream" is known in Grateful Dead lore as the "Field Trip."
One-off specialist Fathom Events presents the Dead "Meet Up" for the third straight year. "Sunshine Daydream" screens Aug. 1 at 7 p.m. local time, with multiple venues in most big cities. (Sorry, Canada.) That's the 71st anniversary of Jerry Garcia's birthday, as any party-hat-wearing Deadhead will tell you.
The benefit concert, shot in a mid-August heat wave, looks like a relaxed affair, with plenty of sun (and bodacious sunburns), nudity, hippy-dippy dancing and dope. The Merry Pranksters did their thing behind the scenes. The New Riders of the Purple Sage opened the concert.
Stretching out things for the screenings will be interview clips with usual suspects Ken Babbs, Sam Cutler, Wavy Gravy and "Mountain Girl" Garcia.
Based on a promo video (below), the picture and sound should be more than good enough.
Dead.net says the film soundtrack features new stereo and 5.1 surround mixes by Jeffrey Norman at TRI Studios in San Rafael, Calif. The audio was mastered by David Glasser at Air Show in Boulder, Colo.
Soundboard bootlegs of the Dead's performance have long been in circulation, and can be found online. A CD of the New Riders' set
was released in 2004, utilizing the soundboard 16-track master tapes.
The day was a benefit for the Springfield Creamery, a dairy that continues today. (text continues)
Here is the Grateful Dead's set list from that day, as posted by Dead.net:
Promised Land
Sugaree
Me and My Uncle
Deal
Black-Throated Wind
China Cat Sunflower
I Know You Rider
Mexicali Blues
Bertha
Playing in the Band
He's Gone
Jack Straw
Bird Song
Greatest Story Ever Told
Dark Star
El Paso
Sing Me Back Home
Sugar Magnolla
Casey Jones
New feature: View more psychedelic band set lists.
More Grateful Dead content from Psychedelic Sight:
---
Grateful Dead store
(Getting high on Amazon's supply)