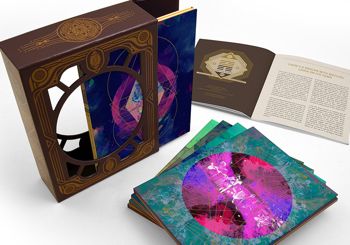 May 1977 ring a bell? Maybe so — that's the month "Star Wars" debuted in cinemas nationwide.
Deadheads have a different frame of reference:
Early in the month the Grateful Dead played its legendary show at Cornell University's Barton Hall. That's the one whose tapes are enshrined in the National Recording Registry.
For the Dead, it was another tour stop in a "gloriously fertile season," at least according to producers of the upcoming 14-CD project "May 1977."
The $140 set — similar but nowhere near as massive as the "Europe '72: The Complete Recordings" — will be numbered and limited. Only 15,000 are being made, but that's about double the number of "Europe '72" CD sets, which sold out in four days. (Pre-orders for "May 1977" are under way at dead.net)
The five consecutive shows all follow the May 8 affair at Barton Hall. They are:
May 11: St. Paul Civic Center Arena, St. Paul, Minn.
May 12: Auditorium Theatre, Chicago
May 13: Auditorium Theatre, Chicago
May 15: St. Louis Arena, St. Louis, Mo.
May 17: University Of Alabama, Tuscaloosa
"May 1977" delivers all of these concerts in full. Expect full liner notes for each gig.
Band archivist David Lemieux will unveil the box set in a 90-minute special on the Grateful Dead channel on SiriusXM, Wednesday, May 8, at 9 a.m. ET. There are the usual rebroadcasts, as well as reprises all three days of the Memorial Day weekend.
The Dead marketers say this spring '77 tour mostly has "flown under the radar due to the uneven quality of tapes in circulation."
That should change with this presentation of 111 tracks, mastered to HDCD specs. Lemieux says these shows produced some of the best-quality tapes in "the vault."
Debuting songs that May included "Passenger," "Iko Iko" and "Jack-a-Roe." The Dead had just finished recording the studio album "Terrapin Station."
"The shows are very different from one another, very complimentary of each other," says band archivist David Lemieux. The CD lineups do show a welcome diversity of song selection for this sort of project, but some numbers show up several times: "Samson and Delliah," "Terrapin Station," "Playing in the Band," "Dancing in the Street" and "New Minglewood Blues."
The psychedelic box (pictured) features artwork by Masaki Koike; the booklet essay comes from Dead historian Steve Silberman. "By far the coolest format of packaging I've ever seen with the Grateful Dead," Lemieux says. "It's a fun box set."
The plan, of course, is to "never again" release the shows on CD. Latecomers nonetheless will be able to download the tracks in the FLAC and Apple lossless formats. No singles or albums, it's all or nothing in all formats.
An hour's worth of audio samples are available on the box set's page on the Dead web site.
More Grateful Dead content from Psychedelic Sight:
---
The Grateful Dead store
(Getting high on Amazon's supply)