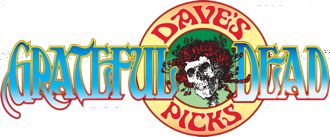 Thought the Dead marketing machine was done with live archival releases?
Fat chance. The music never stops. Not fade away. And all that …
Six years after the famed series "Dick's Picks" was retired — and just weeks after the "Road Trips" series reached the end of the road — the Dead's live legacy continues with "Dave's Picks."
Dick was the Dead's longtime archivist Dick Latvala. Dave is David Lemieux, the current archivist, who took over the job when Latvala died in 1999.
Dave's Picks will be a numbered limited edition series limited to 12,000 copies (that number could be elastic, based on previous Dead decisions). The CDs will be close to Dick's Picks in philosophy, Lemieux says, featuring complete shows.
The Dead's website promises "the finest unreleased shows from the master tapes, brought to life with HDCD sonics by Jeffrey Norman, period photos, and informative liner notes."
The first release comes from a May 25, 1977, show at the Mosque in Richmond, Va.
Dead.net offers an advance subscription package with a lower price ($95) and a bonus disc.
"This is the most excited we've been since the 'View from the Vault' (DVD) series," says the excitable Lemieux, who says 90 percent of his personal listening time is spent on Dead audio.
"Mostly it's going to be two-tracks (as with the Dick's Picks and Road Trips series)."
The archivist invites fans' input: "We not only welcome your input, we need your input. … There's too many shows and too many hours. … Everyone's opinion matters to us. If you think that such-and-such is a great show, we're going to listen to it."
To contact the team, email vault@dead.net — put "Grateful Dead" subject line.
In other Dead product news:
The 2011 edition of the Grateful Dead Almanac no longer will be printed on paper. "Yes, here in the second decade of the 21st Century (and after a bit of screaming and kicking), we've (gone all digital)," the editors say. View the online Grateful Dead Almanac.
Rock book author Paul Grushkin ("Grateful Dead: The Official Book of the Dead Heads") takes another look at the band's hardcore fans with "Dead Letters: The Very Best Grateful Dead Fan Mail."
The "Road Trips" CD series has come to an end with No. 4. Vol. 5, capturing the Boston Music Hall show from June 9, 1976, and (partly) June 12. The series ran four years and released 17 discs.
Lemieux's massive "Europe '72, Vol. 2" had a cup of herbal tea on the Billboard album charts, topping out at No. 193 in the week of its release.
---
Grateful Dead store
(Getting high on Amazon's supply)